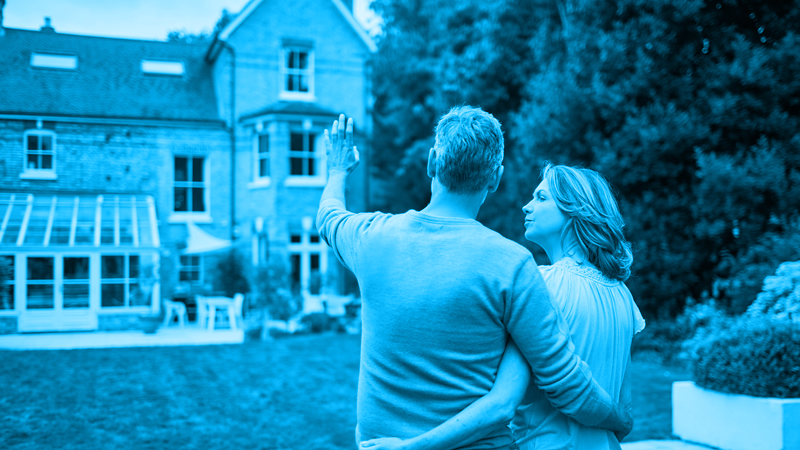 A part and part mortgage, allows you to pay off some of your mortgage over time, but not all of it. When the mortgage term ends, there will still be some money left to pay off.
Part and part mortgages are considered to be in the middle of repayment mortgages and interest only mortgages.
A part and part mortgage is also referred to as a "part repayment and part interest mortgage", or a "part capital and part interest mortgage".
This guide will explore what part and part mortgages are, including their purpose and key advantages as well as alternative mortgages that may be worth considering depending on the borrowers' circumstances.
What is a part and part mortgage?
'Part and part mortgage' are the term for when different types of mortgages are combined such as an interest only and a repayment mortgage.
An interest only mortgage is defined as a property loan where the borrower only pays the interest due on the financial product, for either part or all of the mortgage term, resulting in the capital balance remaining the same.
Interest only mortgages have strict lending criteria and have reduced in availability following the 2008 financial crisis.
Whereas throughout a traditional repayment mortgage, each monthly repayment value covers both the interest due and a part payment towards the capital, decreasing this balance over the duration of the mortgage term.
Need more help? Check our quick help guides: 
Part and part mortgages are often researched with the objective of minimising the monthly repayment.
It is rare that interest only and traditional repayment mortgages are combined however it is possible. It is strongly advised that borrowers must inform themselves of the differences between the mortgage types and the consequences of financing property in this way.
For example, when an interest only mortgage comes to the end of its term, the principal balance is still due, you must have something in place to repay this outstanding capital.
Advantages of Part and Part Mortgages
In the short term, a combination of the two types of mortgages can reduce the monthly repayment values.
In contrast to a sole interest only mortgage, the combination of the part repayment mortgage ensures that some payment against the capital is being made. Therefore, looking ahead to the end of the mortgage term, there will be less capital to pay as a lump sum.
Also, in comparison to an interest only mortgage, there is less interest to pay with a part and part mortgage as the interest reduces over the term in association to repayments against the capital loan.
Often part and part mortgage lenders are flexible allowing the borrowers to set the ratio between the two mortgage types, however, the amount is likely to depend on the personal circumstances of the borrower and the repayment vehicle available.
Disadvantages of Part and Part Mortgages
Although there are no specific disadvantages of combining two types of mortgages, it is stressed that specific financial advice should be sought to ensure that there is a full understanding of the part and part set up and any later financial considerations have been taken.
For example, a plan would need to be considered for the repayment of the capital sum left at the end of an interest only mortgage, no matter the proportion within the part and part combination, otherwise financial pressures could simply be delayed until the end of the mortgage term.
In a like for like comparison, a part and part mortgage will cost the borrower more in interest versus a repayment mortgage and therefore the reasons why a borrower would enter into a part and part, and the ratio of the split between mortgage types must be fully explored.
Related guides: 
How does a Part and Part Mortgage Work? 
No part and part mortgage is the same and the exact and how much capital you pay off over time and at the end of the mortgage period will be discussed and decided upon with your lender.
However, the majority have maximum amounts that can be interest only. Typically, this is linked to the loan-to-value ratio of your mortgage, or LTV.
Therefore, even though a part interest, part repayment mortgage can offer flexibility, you will be required to pay back a considerable amount of the mortgage on a regular basis.
Paying Back the Interest Only Part
When you apply and accept the terms of a part and part mortgage, you will need to prove to your lender that you'll be able to repay the money remaining at the end of the period. This would be the case if you had an interest only mortgage.
As a result, it's important to put together a plan, also called a repayment strategy. It's normal to be asked a lot of questions about your strategy, so ensure you are well prepared when you apply.
The Application Process for a Part and Part Mortgage
A part and part mortgage application follow a similar process as to that of a standard mortgage where; the applicants' income is confirmed, the loan to value rate is reviewed considering any deposits or previous equity percentages within the property, and credit checks are undertaken.
Evidence of a repayment strategy for the capital outstanding at the end of the mortgage term would also need to be submitted for review by the lender.
Any other criteria would be set by each lender, for example, some lenders will have a maximum level that they would offer as the interest only mortgage element.
Re-Mortgaging Mid-term
Personal financial circumstances change over time and often these changes do not always align with a mortgage term break. Therefore, re-mortgaging may be considered at any point.
In some circumstances, if the previous repayment plan to cover the outstanding principal balance at the end of an interest only term is no longer viable, one option may be to switch to a repayment mortgage.
This option may also be considered should income increase and therefore borrowers can afford to make higher monthly payments, resulting in a reduced cost of interest over the longer term.
In other situations where financial circumstances take a negative turn, depending on the scale and duration of the changes, it may be difficult to re-mortgage on the open market as application criteria may no longer be met.
Therefore, depending on the full details of each individual situation, it may be possible to enter into a negotiation with the existing lender to establish options, such as if a repayment mortgage is in place, can a change be made to a part and part mortgage. As with all financial decisions, it is highly advised that specialist financial advice is sought before making any changes.
Related reading: 
Part and Part Mortgages Summary
Due to the very nature of part and part mortgages, the ratio between the different mortgage types, and the suitability for borrowers will depend entirely on the personal circumstances of the borrower and therefore specialised tailored financial advice is always recommended.
Experienced financial advisors provide many service benefits from being able to share an insight into the market conditions, as well as lender traits to evaluate the likelihood of applications being successful.
In addition, advisors will compare viable options and will seek to find the most cost-effective option for the borrower, saving them money over the term of the mortgage and therefore the advice can be invaluable in many ways.
Give us a call on 01925 906 210 to speak to an advisor, or contact us for mortgage advice that's personal to you and takes your credit history into account. That way you'll know where you stand in the mortgage market and we can guide you on your route to securing a suitable loan.
Further reading: