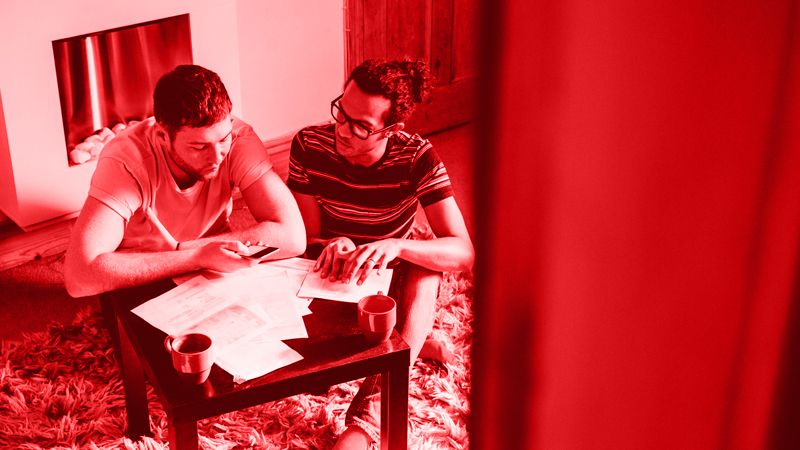 Yes. You can add someone to a mortgage with your existing provider or when remortgaging with a new mortgage provider.
It can seem complex, but it can be straightforward with the right expertise and support.
This guide explores everything you need to know about adding someone to a mortgage in the UK.
How Do I Add Someone To A Mortgage?
Adding someone to your mortgage isn't simply about changing the names on the mortgage with your lender.
You must apply to have the other person's name added by filling out some forms so the lender can check their details.
The legal process of adding someone to a mortgage is called equity transfer and can be done in two main ways:
Adding Someone To Your Current Mortgage
If you're adding someone to a current mortgage, you'll need to approach your existing lender to arrange it.
The lender will run you through a similar process to a new application, and the person you're adding will be subject to standard income and credit checks before the lender can add them to the mortgage.
The person you're adding will be jointly responsible for the mortgage repayments, and the lender must ensure they can afford them.
The application can easily get approved if they meet the lender's criteria since having two people on the mortgage is better than one.
However, your current lender isn't obligated to add someone else if they don't meet the criteria, no matter how well you've managed the mortgage.
A solicitor may need to be involved when adding the new name to the title deed, and the lender can charge a fee for processing the request.
Remortgaging To A Joint Mortgage
Another option is remortgaging, where you sign up for a new mortgage policy with your current lender or a different one.
You can remortgage by applying for a new joint mortgage with the person you want to add.
It will be like a new mortgage application involving property valuation, income assessment, and credit and affordability checks.
Consulting a mortgage adviser with whole market access before remortgaging can ensure you get the best deal available for your circumstances.
They can compare different lenders and mortgages and even help with your application, saving you time and effort.
Which Is The Best Way To Add Someone To A Mortgage?
Whether remortgaging or adding someone to an existing agreement is the right move will depend on a few circumstances.
One of the major issues is whether or not you're on a deal subject to early repayment charges (ERCs).
If you're tied in a fixed term or incentive period with your lender, you'll pay a hefty ERC that can reach thousands of pounds if you leave the mortgage before the end of the period.
The cost may not be worth remortgaging with a new lender, so it can be better to add the other person to your existing agreement through a transfer of equity.
However, remortgaging will be more suitable if you're not tied to a fixed term.
Remortgaging allows you to compare different deals available from different lenders and get favourable rates that can save you tons of money.
Considerations When Adding Someone To A Mortgage
A mortgage is a significant commitment, and there are a few things you need to consider before you add someone to a mortgage.
These include:
The Relationship Status
If you're in a civil partnership or marriage, then there's no need to add your partner to your mortgage.
When it comes to married couples, it doesn't matter whose name the property is under since you'll both have a claim.
If the deed holder dies, the property automatically passes from one spouse to the other.
If you're not married but want to own the property with your partner jointly, you'll need to add them to your mortgage.
However, it's wise to protect your investment if you initially bought the property before meeting them and have built up significant equity over the years.
Circumstances can change anytime, and you may not feel happy about your partner getting half of the equity you worked hard for after a breakup.
You can add your partner to the mortgage and still protect your equity through a tenants in common arrangement.
It allows you to define the share of the property each person will own from the outset instead of automatically dividing it 50/50 as a joint mortgage would do.
Legal Work
Legal advice is essential before adding someone to your title deeds and mortgage.
There are wider implications to consider, including tax, inheritance and what should happen in case of a separation.
You'll need the help of a solicitor to work out all the legal details.
The solicitor will need to get a copy of the title from the Land Registry to add a name to the property deeds and create a transfer deed that you and your partner will sign in front of a witness.
They can also help you prepare documents to protect your equity if you're not married.
It can include a deed of trust stating what you'll each own or a cohabitation agreement with arrangement for property and finances while living together or when you split up, die, or get ill.
Credit Association
Your partner's credit score will be associated with yours when you get a joint mortgage, meaning their financial information will show up on your credit report.
You may not need to worry if they have a good credit score, but you'll probably want to avoid linking your score to theirs if it's bad.
This is because it will reflect negatively on you and make it difficult to borrow in future or remortgage your property.
Can You Add Someone To A Mortgage? Final Thoughts
If you're thinking about adding someone to your mortgage, start by getting legal advice from a solicitor.
They'll advise you on how to protect yourself and any kids involved.
Also, check whether your existing deal has an early repayment charge and how much it would cost before deciding whether to add someone to your existing agreement or remortgage to a joint mortgage.
Call us today on 01925 906 210 or contact us. One of our advisors can talk through all of your options with you.