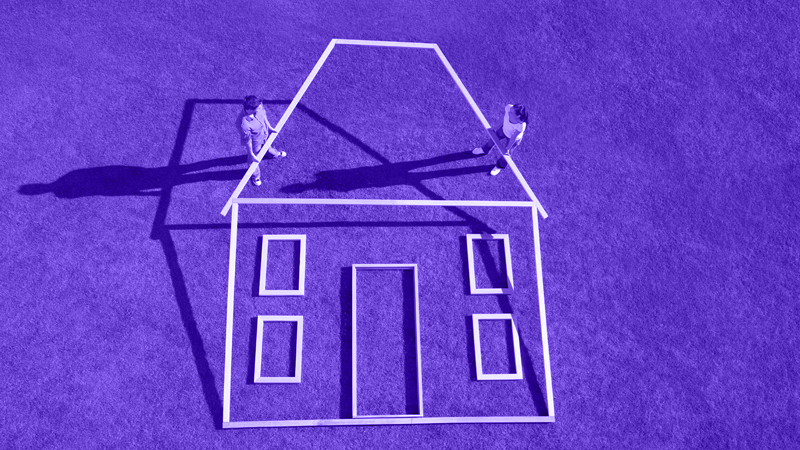 When looking to purchase a home, your first thoughts are probably around size and location rather than its structural material.
After all, aren't all homes made from bricks and mortar?
In most cases, it's bricks and cement that make up our homes. However, through the ages, we humans have used many materials to build our cozy abodes.
For example, in your hunt for your forever home, you may come across houses made from wood, concrete, brick, clay, and even steel.
While you don't often see these materials hidden behind the paint and trimmings, they make up the base structure of your home.
The durability of this structure becomes important when trying to get a mortgage, especially in the case of steel framed houses.
Unfortunately, steel framed homes can be problematic when it comes to insurance and resale, hence the hesitancy of some lenders when considering a mortgage on them.
Need more help? Check our quick help guides: 
The primary reason for the bad rep steel framed homes get is building quality because steel frameworks often develop structural issues over time.
While some lenders may consider offering mortgages on specific reliable steel frame constructions, others draw the line and refuse.
As with most challenges when running the mortgage gauntlet, it's simply a matter of finding the right lender for the job. But this in itself can prove tricky.
Before applying for a mortgage on a steel framed home, one of your first steps should be to investigate whether its construction is structurally sound.
In other words, check if the structure is displaying signs of corrosion. This can be done by requesting a detailed property survey.
Why should you get a property survey done?
When looking to purchase a steel framed home, it's imperative to get a building survey done by an experienced surveyor.
They will conduct a full property check and inspect the structural stability of the steel structure.
Choosing a surveyor with experience in surveying steel will ensure any defects are spotted timeously.
What does a surveyor check?
Corrosion – Stanchions checked for rust
Evidence of subsidence – Movement of the property's foundations.
Signs of asbestos/ hazardous materials – Asbestos was banned in the UK in 1999 and has been linked to many health-related illnesses and deaths.
Roof – Checked for leaks and structurally sound.
Drains – Checked for leaks, poor flow, blockages, and pollution.
Pest infestations – Rats, mice, dry and wet rot, termites, and woodworm
Signs of damp
Boiler / Electric meter
Factors that could influence your mortgage
When purchasing a steel framed house, certain factors may influence its mortgage-ability.
Reinforcement
Reinforcing a steel framed property may increase its mortgage-ability. This is when brick is used to strengthen the foundations. However, this can be costly.
Insurance
Obtaining insurance for a steel framed home can be challenging as well as costly. While there are specialist lenders who may offer insurance, it's often at a higher premium.
Related guides: 
Do I need a higher deposit for a steel frame home?
When lenders consider mortgage applications, they look for ways to mitigate the risks they are exposed to.
As a result, you may need to supply a higher deposit to circumvent their risk of lending against what they term as a non-standard property.
This is a property made from materials other than bricks and mortar – in this case, a steel frame.
While most lenders require a deposit of 10%, this can increase if the property you purchase is steel framed.
Your credit history and the results of the property survey will determine the increase in the deposit required.
Can you get a BISF construction mortgage?
Acquiring a mortgage for a BISF home may be more challenging than you think. Here's why. Many homes on the steel frame market are BISF homes (British Iron and Steel Federation.) However, their numbers are not an indication of their popularity but rather their necessity.
Constructed in the 1940s, right after the second world war, BISF homes were a quick solution for the growing housing demand when building materials were hard to find.
As a result, the building quality was poor, made from panels resembling flat-pack furniture and quickly erected on site.
However, aside from cheap building quality and materials, these houses are also listed on the Housing Defects Act (1985), making them even more unattractive to prospective lenders.
To increase its mortgage-ability, you could reinforce the property with brick, but this can prove costly.
When considering the purchase of a BISF home, it's best to discuss your options with a specialist lender who understands the steel frame market. They can help you make an informed decision and possibly assist with a mortgage.
Related guides: 
Final thoughts
The mortgage process is challenging even for those with a great credit score purchasing a standard property. However, the process becomes more difficult for those looking to purchase a non-standard property such as a steel frame home.
The additional issues with a steel frame home can make reinforcing, insuring, and purchasing such a home more costly than you anticipated.
That's why it's recommended that you obtain professional advice when buying a steel frame home.
Using an experienced broker will help you traverse the pitfalls of purchasing a steel frame home and improve your chances of obtaining mortgage approval.
Frequently Asked Questions
1. Why are steel frame homes problematic?
The steel framework of these homes often develops structural defects. This makes them difficult to resell, insure and, as a result, obtain a mortgage on them.
2. Is reselling a steel frame home difficult?
Obtaining a mortgage and insurance on this type of home is challenging. Therefore you may find it difficult to sell in the future.
3. Bad credit, can I get a mortgage on a steel frame home?
Bad credit history can affect a mortgage application irrespective of the property you are looking to purchase.
However, the added difficulties experienced when purchasing a steel frame home may mean you need to seek the advice of a specialist advisor.
Call us today on 01925 906 210 or contact us. One of our advisors can talk through all of your options with you.
Further reading: