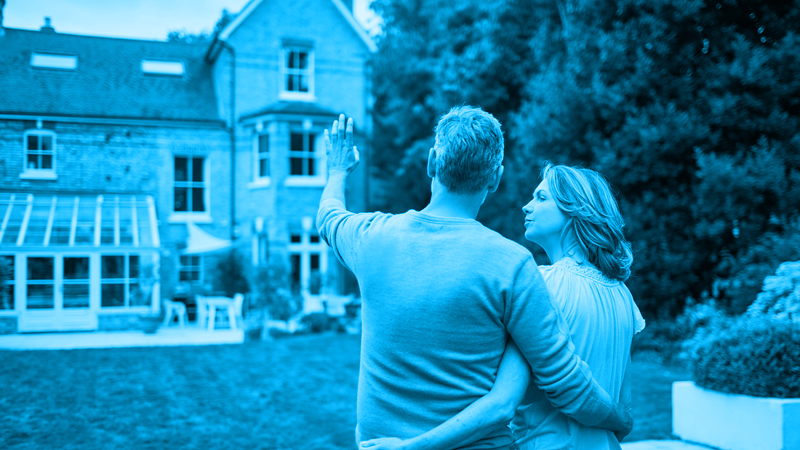 Wanting to remortgage on maternity leave? Here we cover the whole process and what it entails. 
Thousands of births are recorded in the UK each year, and getting a remortgage on maternity leave is a common concern.
Getting a remortgage on maternity leave isn't always straightforward and can cause worry and confusion, which is the last thing you need with a baby on the way.
However, with the right advice, it doesn't have to be.
This guide explores how maternity leave can affect your remortgage application and the best way to approach it to ensure a successful remortgage on maternity leave.
How does maternity leave impact remortgaging?
Mortgages have direct linkages to how much money you earn, and the lender will consider things like maternity leaves when assessing your affordability.
When you're on maternity leave, you'll likely be on reduced pay for some or all of that period, putting you in a different financial position.
As a part of responsible lending, lenders must ensure your affordability by assessing your monthly income against your household's financial outgoings, including mortgage repayments.
When remortgaging on maternity leave, some lenders will assess your affordability based on the reduced income figure, making it challenging to meet the affordability criteria.
Can you remortgage on maternity leave?
Yes. Getting a remortgage on maternity leave is possible, provided you find the right lender.
Some lenders can offer a remortgage based on a varying percentage of your regular salary, or your pay on maternity leave, reducing the amount you can borrow.
To get the best deal, you need a lender who will assess you based on your full salary before going on maternity leave.
You can increase your chances of finding such lenders by applying for remortgages through a mortgage broker who specialises in getting mortgages for applicants on maternity leave or those about to go on one.
Related quick help remortgage guides: 
Informing lenders if you're pregnant or going on maternity leave
While lenders are unlikely to directly ask if you're currently on maternity leave or whether you will be soon, it's essential to be upfront and honest in your application because it will significantly impact your finances.
The application will likely ask whether you expect any material changes to your financial circumstances or anything that can affect your ability to keep up with mortgage repayments.
Having a baby counts as such a change because it will be an extra mouth to feed and clothe and will affect your finances and the lender's assessment.
You also need to inform the lender if you're applying for a remortgage when going on maternity leave.
It may not be apparent on recent payslips, so you need to explain to the lender that your income is about to be reduced for a specific period. To ensure they make an informed decision.
Failing to provide material information or lying may count as non-disclosure and can get you accused of mortgage fraud, even if you did it unintentionally.
Providing all the information about your financial situation ensures you get a remortgage deal that works for you and can afford comfortably even after the baby comes.
How to get a remortgage on maternity leave
Follow these essential tips to ensure your application for a remortgage on maternity leave is successful:
Get a reference letter from your employer
It's a good idea to show lenders that your decrease in salary is temporary and you'll soon be back to full salary.
Ask your employer to write a reference letter to give the lender confidence and support your remortgage application. The letter should confirm the following:
You'll be returning to work.
Your return date.
The hours you'll be working.
Your salary.
This is enough assurance for many lenders to proceed with the application using your previous or projected salary.
If you're going to return to work part-time, the lender will decide based on the new salary.
Adjust your budget
Consider how going on maternity leave and having a child will affect your finances, and adjust your budget to ensure affordability.
It will help you decide whether you can afford the new rates of the remortgage with the growing family.
You'll need to show the lender you can cover monthly repayments on the reduced maternity pay if you want them to consider a remortgage based on your regular salary.
It can include evidence of extra income like your partner's salary, money in a savings account or gifts from family members.
You can also show lenders you've considered how much you'll spend on childcare after returning to work.
It can be something like a family member caring for your child for free, and it shows them you're thinking long-term.
Use a mortgage broker
A suitable broker with experience working with applicants on maternity leave can provide expert guidance to smoothen the remortgage process.
They'll help you explore the entire market to find a lender willing to remortgage based on your full salary and circumstances.
A broker with whole-of-market access will know the exact lenders who can help you remortgage on maternity leave with little to no caveats.
It will ensure you don't waste time with unsuitable lenders or damage your credit score by making multiple applications that get declined.
Best of all, the best brokers have deep working relationships with mortgage providers and can negotiate the most favourable deal on your behalf.
Can you remortgage on maternity leave when self-employed?
Yes. But your circumstances will influence whether or not the remortgage process is straightforward.
The lender will need to know how going on maternity leave will affect your income. Such effects usually depend on your involvement in the business's day-to-day operations.
Your income will be significantly impacted if the business can't function without you being there.
Getting a remortgage will be simpler if you can show lenders you have employees who can take care of the business during your leave and not affect your income.
Lenders will be less willing to grant a remortgage if you're a sole trader or the business can't function without you.
Related reading: 
Remortgage On Maternity Leave Final Thoughts
Finding the right lender is critical when you want to remortgage on maternity leave.
The last thing you want is to get a remortgage based on a percentage of your full-time salary or get rejected after approaching multiple lenders.
To ensure you get a suitable lender the first time, ensure you use a broker when applying for a remortgage on maternity leave.
Call us today on 01925 906 210 or contact us. One of our advisors can talk through all of your options with you.