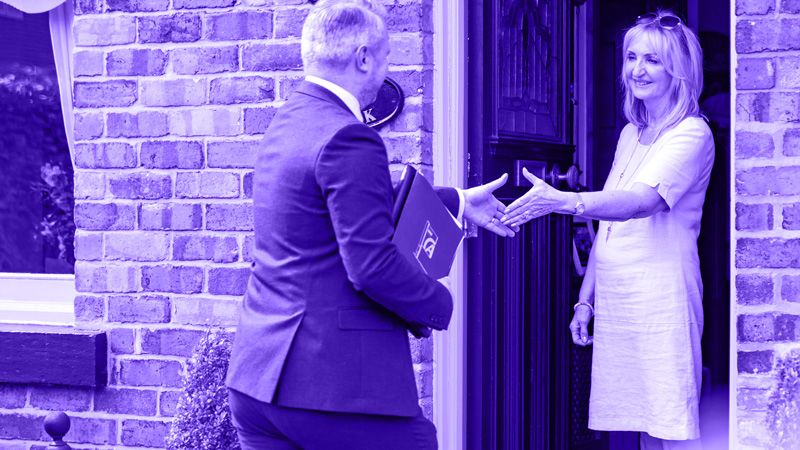 Although it doesn't take that long to find and apply for a new mortgage deal, there's a lot of paperwork and processes that follow.
Besides, if you're switching lenders, you might also need to have your property revalued.
Since the current demand is high, remortgaging is a longer process than in previous years.
In 2022, you can expect remortgaging to take around two months and allow yourself longer than that if you can.
Working with a mortgage broker will take the hassle out of the hunt for you.
With access to thousands of deals from the best lenders across the country, a broker can speed up the process and help land you on the right deal.
Here's a complete breakdown of the remortgaging process.
Steps To Remortgaging
Step 1: Shop For A Mortgage Deal (1 day)
The first step to remortgaging is to find a new mortgage deal.
You don't always have to move to a new lender to remortgage. Instead, you can stick to your current provider and move to a lower rate.
However, it's always smart to compare other products in the market to ensure you are getting the best deal.
If you choose to work with a mortgage broker, you'll need to provide:
Your personal information.
Your credit report.
Details about your current mortgage.
Details about your income and expenses.
Details about your current situation and what you want to achieve with your remortgage.
Step 2: Get A Mortgage Agreement In Principle (1 day)
Now that you have found the right remortgage deal, you need to apply for a Decision in Principle or a Mortgage in Principle.
This will show you how much the lender is ready to lend you based on the information you give them.
You can confidently move on to the next step if your DIP is approved.
If your DIP is rejected, it might be that you need to supply additional information.
A broker will know the right thing to do, which might mean fixing some things in your credit report and trying again.
Step 3: Gather Your Documents (1-3 days)
Now that your DIP is secured, it's a good idea to start prepping your documents, such as:
Photo ID: You will want a valid UK passport or driving license, although some lenders might also accept other forms of ID.
Proof of address: This can be a utility bill or bank statement dated within the last three months.
Proof of expenses: Bank statements within the last three months
Proof of earnings: This will depend on your situation:

If employed, you will need to provide payslips from the last three months. Some lenders may also require your P60 to prove any additional income.
If you're self-employed, you must provide your SA302s and tax year overviews from the previous two years. You may also need to offer trading accounts or a reference from your accountant.
Step 4: Submit Your Remortgage Application (1 or more days)
After gathering all your necessary documents, the next step is applying for your remortgage.
If you are using a broker, they can do this for you.
You will be notified if you need to provide additional information at this point. If not, you can sit back and wait!
Step 5: Remortgage Valuation (1 week)
Before approving your new mortgage deal, your lender may want to confirm that your property is worth what you say it is.
Sometimes this will be completed by visiting your property.
In other cases, it will be done electronically by using online data for properties in your area to estimate the value of your property.
While valuations can cost £250 to £1,500, many lenders do it for free as part of the remortgage deal.
Step 6: Get Your Remortgage Offer (1-7 days)
Once the valuation is over and your lender has viewed your application, supporting documents, and credit score, your lender will give you a decision.
Depending on your situation, you can get one of the following results:
Your application is approved. This means you have fulfilled the lender's affordability criteria and can move forward confidently, knowing they will lend you the money.
Your application has been referred. At this point, you may be asked for extra supporting details. If you are using a mortgage advisor, they will help you deal with this.
Your application is rejected. In this case, your broker can help you understand the reason for rejection and determine the best course of action.
Has your application been accepted? Good for you!
Now you get seven days to reflect and decide if you are sure you want to go ahead with the remortgage deal.
If you change your mind, you can cancel your contract within these seven days.
Step 7: Complete the Legal Work (2 or more weeks)
Now that you have received your new mortgage offer and are sure you want to go ahead, you will need to hire a licensed conveyancer or solicitor to manage the legal work and finalise your remortgage on your behalf.
While some lenders will appoint a solicitor or conveyancer for you, acquiring your own might also be necessary.
If you are changing lenders, your conveyancer or solicitor will perform several checks to ensure that your new mortgage is enough to pay off your current lender.
They will contact your existing lender and request a redemption statement if everything looks fine.
This statement will inform your new lender about the amount they need to pay to settle your previous mortgage.
Once your remortgage has been completed, your new lender will contact you to inform you about your monthly repayments.
Congratulations! The land registry will finally be updated to show your new mortgage deal.
Do You Need Help With Your Remortgage?
Are you wondering how to go about switching to a better deal and remortgaging?
Here at Mortgageable, we help you find the best deal for your situation and take care of the entire application process from start to finish to ensure you get your new mortgage without any hassle.
We're ready to get you in touch with the UK's mortgage professionals.
Hop on board and answer a few quick questions to get started.