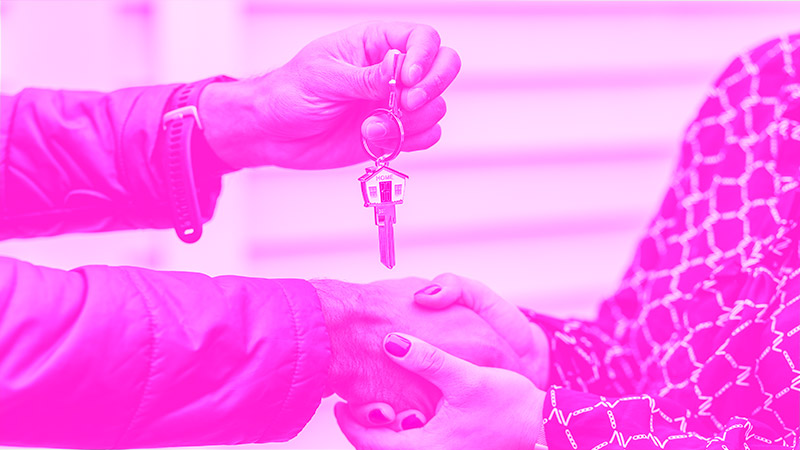 You love the property you're renting, and you've really settled into life there, and it just seems like the natural next step to buy the property.
Can you ask your landlord if you can buy it?
Of course, you can! Keep in mind, though, that the landlord is not obligated to sell the property to you.
But, if you're in a good financial position and can afford the property, you may find that you save on purchasing costs exponentially by approaching the landlord and striking up a deal.
Also, you won't have to pay for removals – you're already there!
And if you feel this way, you're not alone! According to the Property Reporter, more than half of UK tenants want to buy the property from their landlord.
This means that your situation isn't unique, and hundreds, if not thousands, of renters before you have successfully bought their rental properties.
Benefits of Buying the Property You're Already Renting in the UK
Buying a property you're already renting has some fairly specific benefits.
For starters, you won't be competing with other potential buyers for consideration from the property owner.
There's no need to hire an agent to process the sale, meaning you and the landlord cut costs.
If you've been a long-term tenant and have a relationship with the owner, you can better negotiate the selling price.
You'll also have the pleasure of not moving to a new property.
You're already where you need to be. Ultimately, you're heading into a financial change, not a physical one.
Steps to Buying Your UK Rental Property
If you want to buy your rental property, there are a few things you should consider and processes to follow to get it right.
Follow these steps if you're genuinely interested in purchasing your rental property in the UK:
Step 1: Make Enquiries with Your Landlord
The first step is to contact your landlord to determine if they have an interest in selling the property.
In some instances, landlords may initially say they're not interested because they haven't thought about it, but in other cases, it may be food for thought.
This could inspire a desire in them to sell the property.
If you have your heart set on the property, it's worth asking your landlord before starting the house-hunting process for similar properties.
Related mortgages guides: 
Step 2: Determine the Realistic Value of the House
Before you make an offer or try to negotiate a price, it's a good idea to have an understanding of the property's value.
Online services like Rightmove or Zoopla make it a bit easier as they may have historical sale prices of the property.
Then, compare the properties in your area with similar specs. Another way to get to the realistic value of the property is to hire a professional to do an independent valuation.
If you decide to do this through an estate agent, ask more than one to appraise the property, so you have a good basis to go on.
Consult with a Mortgage Broker
If you're paying for the property outright, you must find an affordable UK mortgage provider.
A mortgage broker can provide helpful information on finding the best possible financing.
Trying to decide on a finance deal for first-time buyers can be mind-boggling.
You'll also need some know-how regarding reading and understanding the terms of your mortgage contract.
Brokers are the link between the many deals out there and you.
They help you find the best deal for your finances based on what they have calculated as your reasonable affordability.
As such, you must be upfront with your mortgage broker about your finances.
Lenders will do checks to verify the information provided, which can sway the result of your mortgage application.
That's not all a mortgage broker does.
A mortgage broker can assist you with comparing lenders and ensuring that you're applying for the right type of mortgage based on your financial situation.
Your chosen mortgage broker can also help you avoid negative marks on your credit file by applying for finance through too many lenders.
Related quick help remortgage guides: 
Make Your Landlord an Offer
If your landlord has indicated a potential interest, you can prepare an official written offer to purchase the property.
You'll want to include your findings in terms of property value or make mention of your expected price. Offer them a fair market price, or you may reject your offer.
Make sure that everything is done in writing so that there's a paper trail to follow in case of future queries.
It's also a good way to ensure the deal goes through professionally and without a hitch.
If the landlord decides to proceed with the deal, ensure they have a clear copy of the terms and conditions of the sale/purchase agreement.
Have a Backup Plan
What happens if your landlord isn't keen or the deal falls through?
In that case, you should have a plan B. If the property is too expensive for you or your landlord deciding they don't want to sell the property, you might want alternatives to consider.
Look around at other properties to see if anything else on the market interests you within your price range.
You may find a better buy at a lower price in the same area or something that suits your needs better.
Can I Buy My Property From the Landlord? Conclusion
If you've fallen in love with the property you're renting, there's a chance that the landlord might want to sell it.
It's not guaranteed, but it's worth asking about.
Then, if you're serious about buying it, follow due process and ensure your paperwork is in order.
Your much-loved rental could soon be your dream home!
Of course, consulting with a mortgage broker about your options and the process involved is always highly recommended.
Call us today on 03330 906 030 or contact us to speak to one of our friendly advisors.