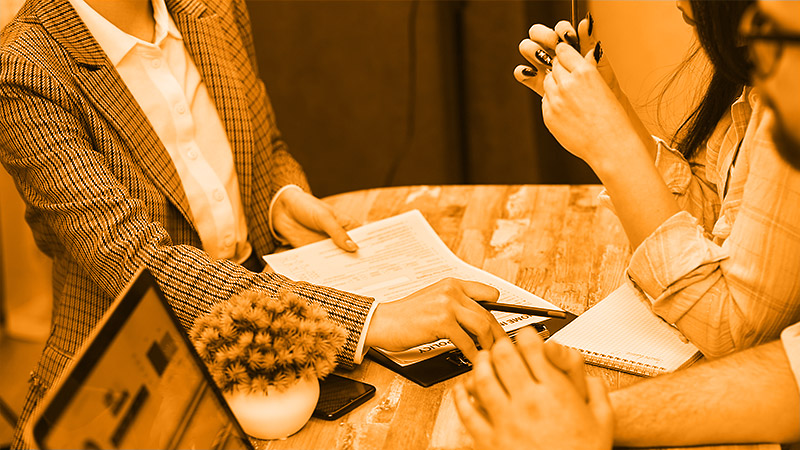 Many first-time buyers in the UK don't know this, but their mortgage offer could expire before they finalise their purchase, which could result in complications with their finance.
When you receive your mortgage offer, you may be so over the moon that you don't even realise there's an expiration date attached.
If you don't finalise your purchase by that date, your mortgage offer may be invalid, which could mean starting the finance application process from the beginning again.
How Long Do Most Mortgage Offers in the UK Last?
Generally speaking, mortgage offers in the UK are only valid for between 3 and 6 months.
That doesn't mean that every lender has the same terms.
In fact, every lender is different, so it's a good idea to check the validity of the offer you receive.
It may seem you can process a property purchase swiftly once you have your mortgage offer, but that's not always true.
There are various hoops to jump through, which can delay the entire application process.
Common Reasons Purchases Experience Delays Resulting in Expired Mortgage Offers
Reasons for a mortgage offer expiring include spelling errors on the mortgage application, the weather, and hiccups in the conveyancing process.
If you're unable to push these processes along, you may miss that looming expiration date.
Here's a closer look at the various reasons for mortgage offers expiring before finalising the purchase:
1. Reserving a New Build Property Early
According to Savills, approximately 255, 300 new build properties received full planning consent for 2023's first quarter.
That's just the first quarter! This means an astounding number of new builds will be ready for mortgaging.
Securing a new build property as early as possible comes with its perks.
For starters, you'll have the pick of the batch and get the unit that you like best, instead of having to settle for what's left.
That said, you may reserve a new build early and then find that the construction company doesn't follow through on their projected plans and timelines, leaving you with a mortgage offer ticking down and not much you can do about it.
Sometimes the construction company isn't entirely at fault and is at the mercy of their supply chain, waiting for materials or having to deal with being under-staffed.
In most instances, a new build can be completed within 6 months.
If the new build isn't finalised within the time window, you'll need to find a way of extending your mortgage offer.
Lenders, of course, are aware that this can sometimes happen, so some offer specific finance offers aimed at new builds that can extend the mortgage offer by up to 9 months.
Enquiring about this possibility with potential mortgage providers before choosing which one you will go with is a good idea.
2. Errors on Your Mortgage Application
Your mortgage application will require extra care to be as thorough and accurate as possible.
If you include the wrong address or spell something incorrectly, it can start the back and forth of paperwork, leading to unfortunate delays.
Double-check every detail on your application before submitting it.
If an error is detected, every participant in the contract will need to be notified and then sign the contract again – this includes the seller, solicitor, and you.
Keep in mind that solicitors can be quite busy, which could mean they don't get around to paperwork corrections as promptly as you'd like them to.
Most first-time and even seasoned property buyers in the UK use a mortgage broker to ensure their application is flawless.
They're trained to be meticulous with processing applications, and so you may find it saves you a lot of time and trouble to consult with one.
3. At the Mercy of the Weather
The prompt finalisation of new property builds is undoubtedly the weather.
If it's going through an unpredictable period where it's wet or snowing, the completion date of the property is pushed back past the expiry date of the mortgage offer.
4. Conveyancing Delays
The conveyancing process can be quite unpredictable.
If the seller's conveyancer is away or busy, it may delay the entire process.
Before using a specific solicitor, make enquiries about their schedules to ensure they won't take any breaks or be unavailable during the process.
It's the responsibility of your chosen conveyancer to ensure all building regulation approvals and planning permissions are in place and that your lender is furnished with the relevant details.
If they're unavailable to do this, your mortgage provider won't approve the loan request.
Related mortgages guides: 
5. The Valuation is Delayed
During the mortgage application process, the lender must arrange a mortgage valuation.
The entire process should take less than half an hour, but if the mortgage provider doesn't make the relevant arrangements, it could delay the entire purchase.
Some lenders are disorganised or busy, and then you'll find yourself waiting for the valuation to take place.
You can follow up with the lender to find out when the valuation will happen – sometimes, this does help speed the process along.
Getting an Extension on Your Mortgage Offer
You're likely to feel panicked if the expiry date of your mortgage offer is swiftly approaching and your purchase hasn't been finalised.
The good news is that most mortgage providers are reasonable in their approach to delays.
That said, you shouldn't leave it to the last minute to advise them.
Rather, let them know as soon as possible so that they can extend the mortgage in good time.
In most instances, the mortgage company will extend the loan offer by around 30 days, but in certain scenarios, you may be able to negotiate up to 3 months or more from the lender.
You'll need to back up your reasoning for the extension, though.
Related quick help remortgage guides: 
Possible Reasons for Mortgage Extensions Being Denied
Mortgage providers in the UK are not obligated to extend mortgage offers just because you request it.
In some instances, the application for an extension can be rejected.
Of course, the process isn't as simple as asking for an extension, and it is granted.
You'll need to prove your earnings have stayed the same by providing your bank statements or payslips for the past 6 months.
This allows the lender to check that you're still financially stable and haven't experienced a change in your financial situation.
It's best to advise the lender if your situation has changed.
For instance, if you've acquired additional debt, your income has reduced, or you've started working for a new employer, you'll need to be upfront about this.
Minimising the Risk of Your Mortgage Offer Expiring
One of the first things you should focus on is not needing a mortgage offer extension in the first place.
Here's what you can do to ensure that:
Know your mortgage offer expiration date
When you start negotiating a mortgage deal, you should know your mortgage offer expiry date.
This will ensure you know how much time you have to motivate all parties to process your purchase timeously.
Acquire the Assistance of a Mortgage Broker
Mortgage brokers are trained in all things mortgage related.
They'll ensure that you know how much you can realistically apply for, which lenders to approach, and how to ensure that your application goes ahead smoothly.
They take the reins and ensure that they do all the chasing up and get the application process – you'll be able to rest easy knowing that your application is in the hands of a professional.
Track the Progress of Your Application & Advise Your Lender as Early as Possible
If you're investing in a new build, keep in touch with the construction managers about the progress of the build.
If you expect there to be delays, you can let the lender know as soon as possible.
If you suspect that you'll need an extension, simply let the lender know as soon as possible so that your lender has time to do the relevant checks in time.
What to Expect When Mortgage Offer Extensions Are Denied
In certain circumstances, mortgage providers will reject the application for an extension.
In such instances, the only way around it is to re-apply for a brand-new mortgage.
The downside of this is that you will likely forfeit the fees you've already paid.
This means you'll be faced with fresh valuation, solicitors, and application fees to pay.
If the process is restarted and the lender valuation determines that the property is now worth more than before, you'll have to raise a higher deposit amount as your mortgage amount will need to be higher, too.
Of course, there's the option that, in some instances, the property value may have fallen, in which case you'll pay a lower deposit and require a lower mortgage amount.
It's not all doom and gloom when a mortgage offer falls through.
Despite the forfeited fees, you may actually find a better mortgage deal which could save you money in the long run.
What About Your Credit Report?
One of the biggest disadvantages of a rejected mortgage offer extension is that the initial failed mortgage will appear on your credit profile, and some lenders may see this as a risk factor.
While some lenders may be sticklers for the details and be wary of why the mortgage didn't go through, others will understand the delays that can happen, especially if a professional mortgage broker is assisting you.
A mortgage broker can also help you find a lender most likely to assist you despite your failed mortgage.
Mortgage Offer Expires Before Completion UK Conclusion
Ensuring that your mortgage is processed swiftly could be as simple as working with a professional mortgage broker and keeping a close eye on the progress of your purchase.
Letting the lender know as early on as possible about delays could be the difference between an approved and denied mortgage offer extension.
Call us today on 03330 906 030 or contact us to speak to one of our friendly advisors.