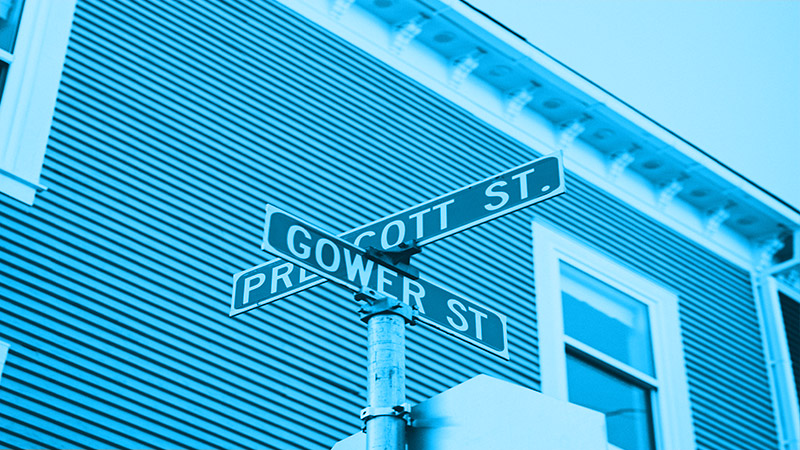 You're travelling the countryside or walking through the streets of your favourite British village, and your eye rests on a cute sign affixed to a cottage with a rambling rose creeper and a thatched roof: Rose Cottage.
Ahh, there's something about that cottage already, and it's not just that it's in your favourite village or only that it's pretty.
It's about more; it's been named, and the name itself is rather quaint. And therein lies a bit of psychology to think of when buying and selling property in the UK.
You'd probably never guess that giving your property a name might drive up its value and earn it more attention.
Don't worry – most people don't know that either.
But property value research has provided a titbit of information that's garnered much interest in recent times.
What's that? For starters, homes named "Courtenay House" in the UK are typically far more expensive than other properties and usually go for somewhere in the £4.8m.
Research has found that homes with that name tend to be more expensive than those with any other.
By now, you've probably got a myriad of questions.
Did you pay too much for your property because it came with a name? Can you change the name, and at what cost?
Will you get more for your property than its deemed value because it has a name?
Should you name your property to increase its value? Should you avoid named properties if you're in the market for a mortgage?
First, let's deviate a little onto some of the other popular names doing the rounds on the property market in the UK.
Other Popular Names for High-Price Properties
While House of Courtenay is the house name that brings in the highest sale price, there are other house names that bring in a pretty packet for those trying to sell them.
And while these names are already being used, perhaps they could inspire some creativity if you're looking to name your property:
These include:
Meadow View
The Willows
Ivy Cottage
Hillside
Orchard Cottage
Rose Cottage
Woodlands
Undeniably, these property names have a certain ring to them, but what makes them sell at higher prices than other unnamed properties?
Of course, the value of a property is first and foremost about the quality of the space and the size, but other factors come into play; psychology.
A named property follows a carefully chosen theme, style, era or similar.
This creates a feeling of authenticity, uniqueness, and of course, being elite.
Status is a big deal in the property market – this is certainly food for thought when trying to sell your property or buy one.
Back to the House of Courtenay, Though
Let's get back to the nitty gritty about the House of Courtenay.
To buy a property called House of Courtenay, you would typically need about £4.8m – at least that's what the average property price works out to.
While you catch your breath, here are a few more facts you might want to know about properties named Courtenay in the UK:
Courtenay properties in the UK that sold for the most were in Hampshire, Exeter, and North London (ranging from £2.9m to £7.7)
Other high-priced properties that are named include: South Penthouse, Bar House, Ormidale, and Doves House.
Now that you've caught your breath, let's look at where House of Courtenay comes from. Is it a historic name and what makes it so popular (and expensive, for that matter)?
First of all, Courtenay is not a name that originates from Britain. However, according to research, a medieval French dynasty is linked to the name.
Apparently, in the 12th Century, some of the family relocated to the UK, with most Courtenays residing in Devon.
As a result, many B&Bs, hotels, and manor houses have been named after the dynasty.
Let's Talk About the Reason Why Named Houses Cost More
It costs just £40 to personalise your home address and this small fee could drive up the value of your house by a whopping 40%.
Why spend thousands on expensive renovations, extensions and extravagant garden landscaping to increase the value of your home when you can simply name your home and benefit exponentially?
You've probably seen enough homes in the UK named to know that naming homes in the country isn't a new fad that just hit the market.
In fact, naming houses is a custom that's happened for centuries in the UK. It was first seen with the upper class as they named their castles, halls, and manor houses.
They were clearly onto something good.
When you give your property a name, you add a personal touch to the space, which can be descriptive, sentimental, or historic.
Naming Your Home to Increase its Value in the UK
If you want to jump on the property naming bandwagon, it's best to take a bit of time to carefully choose a name.
Before you settle on a name, write to the local council of your area.
The council will be in contact with Royal Mail to ensure that the name you wish to use hasn't already been taken, especially in your area.
If the name hasn't been taken, you'll be informed once it's accepted. Now, make your home's signage – which shouldn't cost you more than £40.
If You're Buying…
With this information in mind, you can cut costs by negotiating with owners who have named their properties or entirely avoid purchasing named properties.
Call us today on 01925 906 210 or contact us. One of our advisors can talk through all of your options with you.