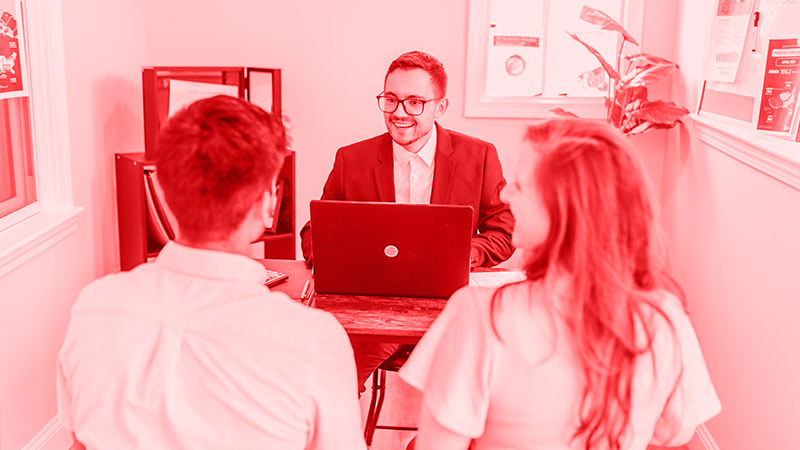 What do you do if you can afford to repay a mortgage's monthly instalments, but can't scrape the hefty deposit together to put an offer in on the house?
Unfortunately, millions of Brits suffer this very problem every year and, in desperation, choose to give up on their dream of owning their own home.
And who can blame them? After all, saving a mortgage deposit is a challenge, and with housing prices increasing consistently and the cost of living on the rise, you may wonder if you'll ever be able to get the home of your dreams.
Those who are innovative thinkers may reach this point and wonder if a loan for the deposit of the property is a good idea.
Here's the deal…
Not all loans are ideal for a mortgage deposit, but certain loan types can be of use in some scenarios.
Of course, you need to investigate each avenue to make sure you're making the right decision!
The general loan options that can be used for borrowing a mortgage deposit include the following:
Government equity loans
Private equity loans
Unsecured loans
Are Mortgage Deposit Loans Available in the UK?
The good news is that you can apply for a mortgage deposit loan if you have saved a portion of the deposit.
This is usually around 5% of the property's value.
In this case, some lenders will offer loans that cover up to 25% of the property's value in the form of an equity loan.
As with all financial commitments, there are pros and cons to keep in mind.
On the upside, by paying a higher deposit thanks to your equity loan, you will reduce your instalments on the mortgage.
But on the downside, there are fees to consider and possibly a more overall interest to pay.
Some lenders may offer unsecured loans that you can use to bolster your deposit, but will require you to have a very stable financial situation with minimal other debts.
Three Steps to Apply for a Mortgage Deposit Loan Online
Step 1: Get Expert Advice from an Experienced Mortgage Broker
With the help of a mortgage broker, you can get unbiased and genuinely helpful advice and guidance.
You can avoid making a financial mistake and find the best route for you.
Step 2: Process the Deposit Loan Application
If the mortgage expert feels you can go ahead, do so.
How the process plays out will depend on if you are applying for an equity loan or unsecured loan for the deposit of your house.
Step 3: Find the Right Mortgage Lender
Not all mortgage lenders will agree to provide you with a mortgage if they're aware that your deposit amount is a loan.
This is one of the reasons it is important to consult with an experienced mortgage broker who can advise you on the right course of action and which lenders are the best to approach in your particular situation.
Which Lenders Accept Borrowed House Deposits in the UK?
Not all lenders will accept house deposits that are acquired through a deposit, but you may have the best luck in the following scenarios:
Privately Funded Equity Loans
These lenders will accept deposits that are partially borrowed: Barclays, Tipton Building Society, Generation Home, and Kensington Mortgages.
These lenders will consider financing you if your deposit comes from a personal loan: Norton Home Loans, Saffron, Santander, and Together.
You'll need to provide all the details of the lender providing you with the deposit and the loan details too.
Having the deposit for your mortgage doesn't mean you'll definitely get the mortgage.
Mortgage lenders will consider certain factors before determining your eligibility for a loan, including your age, employment situation, income, and affordability.
Can I Use a Director's Loan to Pay Towards My Mortgage Deposit?
Owners of limited companies can make a director's loan. When your business has sufficient profits, you can repay the director's loan.
Many lenders will allow you to go this route when applying for a mortgage.
There are two ways that a director's loan can work:
Put money into the business and draw it out later
Borrow money from the business and pay it back later
Only cash that will be repaid can be used as a mortgage deposit.
Can I Use My Overdraft Facility or Credit Card to Pay My Mortgage Deposit?
Using your credit card or overdraft isn't a good idea when trying to pay for a mortgage deposit.
This is because your credit card and overdraft both come with high interest rates, and using such high-interest financing options can be risky.
The UK Government Gives a Helping Hand
If you're struggling to get your mortgage deposit together, the government has a few schemes that could help you.
These include:
Standard Shared Ownership – you can buy just a portion and then rent the other portion of the home from the housing association.
Mortgage Guarantee Scheme – you only need a 5% deposit to get assistance with your home's deposit.
Help to Buy – this provides first-time investors equity loans to buy homes that are newly built directly from the builder. Only a 5% deposit is required.
Loans for House Deposits UK Conclusion
If you're worried about how you will get your mortgage deposit together, keep in mind that there are several options for you to consider.
You could take out an equity loan, opt for an unsecured personal loan, or even a director's loan.
Alternatively, the UK government offers several schemes that could help you get a roof over your head that you can call your own without breaking the bank.
Call us today on 01925 906 210 or contact us. One of our advisors can talk through all of your options with you.