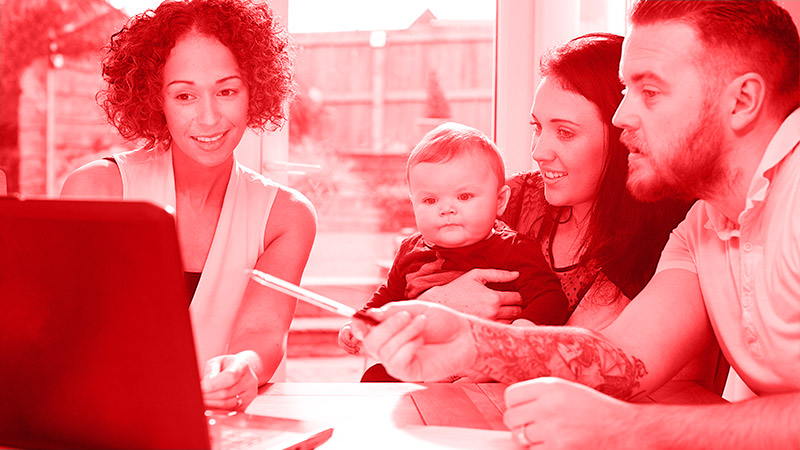 Secured loans involve providing a valuable asset or property as collateral for loan repayments, and lenders may require various documents as proof of ownership, income, and affordability.
It's crucial to have everything you need ready to avoid delays and expedite the process.
Let's explore everything involved in applying for a secured loan in the UK.
Information Needed For Secured Loan
The lender will need a few details to confirm you're eligible for a secured loan.
These include:
Details of the property you're using as security, such as the valuation or address
Your full name and proof of ID, date of birth, and address
Your monthly income
Your employment status, whether it's self-employed, full-time, or part-time
Affordability through your income and outgoings and how you're going to repay, whether it's through rent, income, or sale
How Secured Loan Applications Work
With secured loans, you can borrow money against the value of a property you own or are looking to buy. You can use the house you live in to secure the loan in the form of a second mortgage, especially if you need to raise funds for things like home improvements, debt consolidations, or other financial needs.
A secured loan can also involve a buy-to-let mortgage where you buy a property intending to rent it to tenants. It's wise to consider how much you can comfortably repay without financial strain before borrowing because the loan is always secured against the property.
Once you qualify, the lender places a lien on your property, giving them a legal right to seize it if you default. If you fail to repay or fall back on repayments, the lender can repossess the property and sell it as a last resort to recover the loan.
You risk losing your home or property, so you should never take out more than you can afford.
Secured Loan Process
The process of getting a secured loan usually involves the following steps:
Fact-Finding
Most secured loan processes usually start with fact-finding, where the lender confirms your basic details, including your name, address, date of birth, employment details, property type, and loan requirements.
The lender assesses whether the loan is appropriate for you and ascertains that you meet the basic requirements before requesting more information.
Related quick help guides: 
Searches
Although a secured loan is less risky for lenders, it usually requires a hard credit check. Credit searches are performed to assess your creditworthiness and how well you've handled or repaid loans or credit in the past.
Apart from credit searches, a land registry check is also performed on the property you're eyeing to determine whether any potential issues exist that can affect the loan.
The findings from such searches can influence the terms of the deal, and the lender may make adjustments resulting in higher or lower interest rates and loan to value ratio (LTV).
Valuations
These involve determining the value of the property in question, and you can arrange it yourself, or the lender can do it. Nowadays, most valuations are done automatically using different technologies. However, some need to be done manually, which involves site visits by surveyors.
Depending on the property location and availability of the surveyor, it can take a few days plus a few more to write up and confirm the report. Such valuations enable the lender to determine the loan to value (LTV) ratio, which is the ratio of the loan to the property's value.
Final Checks and Documents
The lender needs to conduct various checks at the final stage. It may also include their solicitors and senior management, who conduct quality checks or fraud checks before lending to you.
Once this is done, they'll likely send you an agreement to review and sign. After the process is complete, the lender will transfer the funds into your account.
How Long Does It Take To Get A Secured Loan?
Depending on the lender and how quickly you respond and provide the required information, getting a secured loan can take 2 to 4 weeks. You can find lenders who offer an entirely online process from application to disbursement, expediting the process.
Others still prefer receiving and sending out documents through the post, requiring more time. The time required can depend on how quickly you can get the necessary documents signed and delivered to the lender. It can also depend on how long the lender needs to process your application and perform the required checks.
Some lenders provide borrowers with a seven-day reflection period. You're given seven days from the day of your application to change your mind and back out without incurring any charges.
Secured Loans Vs. Unsecured And Personal Loans
Unlike secured loans, unsecured and personal loans don't require you to provide any property or asset as collateral for loan repayments. Lenders mainly concentrate on your affordability and creditworthiness when determining your eligibility.
Your monthly income and expenditures determine such affordability. Your credit and income are vital for approving unsecured loans, and you'll need to show proof of consistent employment and income. However, some specialist lenders also consider those with bad or non-existent credit provided they can afford the requested amount.
Unsecured and personal loans usually take shorter processing and payout than secured loans because no property valuations and checks are required. They also feature less paperwork, and you can have your application approved in a matter of minutes and paid out in a few hours!
Is It A Must I Own The Property To Get A Secured Loan?
No. Secured loans work by using equity, which is the amount of the mortgage you've already paid off, as collateral for the loan. You can borrow based on the equity of the property that you own.
If you've already paid off the mortgage and own the property outright, you can borrow more significant amounts with a secured loan and get better terms and interest rates.
The value of your collateral should be greater or equal to the loan amount to be accepted. It ensures the lender can recover the loan amount if you default or fail to make repayments.
How Property Type Can Affect A Secured Loan
Lenders will have different policies and requirements depending on the property you have or want to get. Specific residential categories can have more challenges than others, involving more paperwork or higher deposits for the loan or mortgage.
A 20% deposit is usually standard for attractive secured loan deals when buying properties, which would involve an 80% LTV ratio. However, if the lender considers the property higher risk, they'll require you to come up with a higher deposit.
For example, if you're looking for a secured loan for newly built homes, you may face certain restrictions where the lender requires you to work with particular construction firms or builders.
Properties with non-standard constructions may also present additional challenges that require more documentation and paperwork. Such properties include:
Ex local authority properties
Properties above other commercial properties
Properties are constructed unusually, such as those with thatched roofs or pre-fabrications
Studio flats or apartments that are very high rise
Properties where hazardous materials like asbestos are used in the construction
You may find it challenging to access suitable secured loan deals with such properties, meaning you may get higher interest rates or need a higher deposit.
What Documents Do I Need For A Secured Loan? Final Thoughts
It's vital to consider the risks involved in secured loans because you can lose your home if you fail to repay.
Ensure you only borrow based on your affordability and accurately provide all the information the lender needs.
Give Loanable a call today on 01925 988 055 and they will provide you with the best deals available to meet your circumstances and consider any credit history you may have. With their expert advice, they can guide you through the process and give you the knowledge and confidence it takes to acquire a secured loan that is right for you.
If you have read all the information on secured loans carefully and feel that you want to proceed with a secure loan, get in touch with one of Loanable's secured loan experts by emailing hello@loanable.co.uk who can work with you to find the best deal for your needs and circumstances.