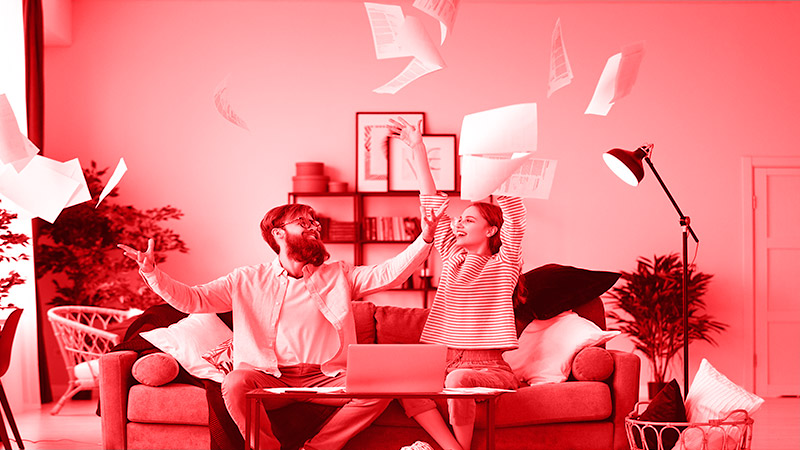 Loans aren't always needed for emergency situations.
Sometimes, they are required for the bigger things in life, such as setting up a new business venture, home improvements, weddings, or vacations.
Whatever the reason for the extra cash needed, unless you have a wealthy relative or win big on the lotto, the chances are you will probably need to consider taking a loan to cover these high costs.
The good news is, many top UK lenders offer secured and unsecured loans of up to £100,000, which you can choose to pay back over 1 to 30 years, depending on the lender.
However, you should ask yourself one primary question when considering a loan of this size, what is the cheapest way to borrow this amount of cash?
Most people think they need to own property or have no debt to apply for a loan, but this is not the case.
Whether you own your own home, are a tenant, have poor credit or excellent credit score, there are lenders who will be willing to offer you a loan.
However, owning property or valuables that can be used as collateral can improve your chances of securing a higher loan amount.
Another way to save when applying for a loan of this size is to use online loan calculators. Online applications don't attract fees when applying, and your credit score will not be affected.
This makes searching for the most affordable loan much easier than ever before! In addition, online applications help you avoid time-consuming face-to-face appointments and travel time – saving you fuel and time spent away from work.
Once your online application is submitted, it is reviewed, and many lenders provide potential borrowers with a loan decision on the same day!
Cheapest Way to Borrow £100k In The UK
Qualifications to Borrow
Qualifying criteria will vary depending on the lender, but general requirements include the following:
Be over the age of 18.
Be a UK resident.
Have steady employment.
Be able to show proof of regular income and ability to make repayments. (bank statements)
 Own a good or fair credit score for unsecured loans.
Own a vehicle or home for secured loans.
Loan Features To Consider And Reduce Costs
Is the loan amount required, and can you afford to repay it?
Does the lender offer flexible repayment terms? Look for a repayment term that suits your budget and offers a low-interest rate.
Monthly repayments are an advantage for borrowers who get paid monthly. In addition, repayments can be set to a fixed amount allowing you to budget easily.
Check if your loan choice allows you to repay the loan earlier than agreed, as sometimes early repayments can attract fees.
Many loan options will waive upfront fees to attract borrowers.
Many UK lenders will still accept you for a loan even if you have a less than perfect credit history.
Related quick help guides: 
How To Find the Best Loans?
The first thing you need to do is compare the loans available to you on the market. Compare the below factors when applying for your loan:
Interest rates.
Loan term.
Type of loan (secured/unsecured).
Repayment examples.
Loan duration.
Once you consider all the different options, you can decide which type of loan is best for your pocket.
Many loan applications can be made entirely online, so you don't have to do any paperwork or make trips to and from the bank. And if your lender asks for details such as bank statements, you can send them to them via email.
How Can I Borrow £100K?
You can loan £100k with an unsecured loan if you have a strong credit score. In most cases, the funds will be paid to you.
However, if you have a bad or less than perfect credit score, you can use your home or property as collateral.
Remortgaging, homeowner loans or loan equity releases are other ways of raising the funds you require.
What Types of Loans Are Available?
Loans fall into two primary categories, secured or unsecured.
Unsecured Loans
An unsecured loan does not require any collateral to support the loan. Instead, your eligibility for a loan is determined by evaluating factors such as your income, employment status and credit score.
As a result, unsecured loans work better for people with good credit scores. Examples of unsecured loans are personal loans, business loans and other short-term loans.
Secured loans
You will need to put a valuable asset such as a car or property as collateral for a secured loan. Secured loans are a good option for customers with poor credit or who need to consolidate debts.
However, if repayments are missed, you will risk losing possession or ownership of your property. Second mortgages, homeowner loans and logbook loans are all types of secured loans.
Equity release
Customers over 55 are eligible for equity release. Simply put, the borrower 'sells' a part of his home and, in return, gets a considerable amount of tax-free cash. The money can be used for everyday purposes.
Can I Borrow If I Have Bad Credit?
Many lenders are more than willing to give loans to people with bad credit.
All they need is to be sure that you can afford to pay monthly repayments. However, you may need to use your home, car or other valuable items as collateral to secure the loan.
How Can I Use The Loan?
Most loans of £100K do not have a restriction on their use. This is because lenders are not concerned with how you are using the funds but rather how you will be repaying the loan.
• To purchase a car or other vehicle
• To make home improvements
• To consolidate debts
• For emergencies
• For weddings costs
• For funeral costs
• To start a business
• To gift family or friends
• To pay tax bills
How Can I Borrow With Minimal Cost?
You can approach a loan broker who will help you compare loan rates and find the best deal for you, or you can use comparison websites to help decide which loan is cheaper.
Loans with cheap rates are readily available for you if you have a good or fair credit score. If you have a history of repaying credit on time, you can get rates from around 3% APR.
Secured loans also come with lower rates. Your income, credit status and other factors will be checked to determine the rate lenders will be willing to offer you.
Cheapest Way to Borrow £100k In The UK: Things to Consider
When loaning £100,000, the following factors should be considered:
Do you really need to borrow and why?
Have you considered your other options besides taking a loan?
Which is the right loan for you?
Have you compared enough loan options?
Borrowing a large sum is a major decision. Take your time and ensure you are familiar with the terms of the agreement, the repayments and the consequences of not adhering to the loan agreement.
Give Loanable a call today on 01925 988 055 and they will provide you with the best deals available to meet your circumstances and consider any credit history you may have. With their expert advice, they can guide you through the process and give you the knowledge and confidence it takes to acquire a secured loan that is right for you.
If you have read all the information on secured loans carefully and feel that you want to proceed with a secure loan, get in touch with one of Loanable's secured loan experts by emailing hello@loanable.co.uk who can work with you to find the best deal for your needs and circumstances.