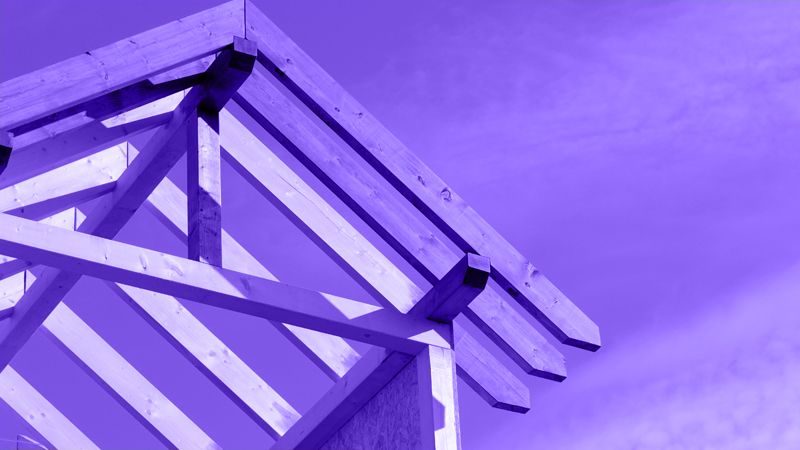 Timber-framed buildings have become increasingly popular in commercial and residential properties since their introduction to British architecture.
They have the advantage of cheaper building materials, quicker and easier construction methods, and superior energy efficiency characteristics.
Despite their popularity, some mortgage lenders in the UK still consider such properties as non-standard. This can make getting a mortgage, buying, or selling timber-framed houses challenging.
However, it's very much possible with the correct advice and guidance. Let's explore timber-framed house mortgages so you can learn how to get one and the potential issues to avoid with these properties.
Getting A Mortgage On A Timber Framed House
Various lenders can provide you with a mortgage for a timber-framed house. However, unlike mortgages for traditional homes, many variables can affect whether the mortgage will be approved and the terms the lender will offer you. These include:
The Age And Type Of Property
Although newer is not always better, the property-built period can be a significant factor. Lenders view modern timber frame houses more positively because the more recent the build, the more stringent the building regulations and methods used.
Few lenders will consider a mortgage for a frame built before 1970.
Additionally, there are many types of timber used in manufacturing timber frames. Some are more reliable than others, but unfortunately, they've often painted with the same brush without considering the comparative strengths and weaknesses.
This makes a detailed survey very important when you're looking for a mortgage for a timber-framed house.
Impartial assessments from surveyors like the Royal Institution of Chartered Surveyors (RICS) can provide a comprehensive report on the frame's condition to assure lenders of the mortgage suitability.
Lenders will want to know the specific kind of timber frame in the property. If surveyors can't inspect or access the timber frame, lenders may require a hidden defects insurance.
Need more help? Check our quick help guides: 
Other Materials
Lenders will also look at other building materials like the exterior or cladding on the timber-framed house. Exteriors made from stone or brick are preferred.
It can be challenging to get a mortgage on a timber-framed home with an exterior made of more brittle materials like plastic or metal.
Lenders may also be reluctant to offer mortgages for timber-framed houses depending on the cladding.
Cladding secured directly to the frame is considered less weatherproof, less secure, and more susceptible to fire risks. The cladding must be easily maintainable to avoid depreciation and damage that can affect the house's value.
Lender Choice
All lenders are not the same. Each will have their criteria to decide whether they'll offer a mortgage for a timber-framed house. Some lenders are more open to financing timber-based properties at excellent rates.
This is where the services of a mortgage adviser are invaluable. Their experience and knowledge can simplify selecting lenders with the best rates for non-standard properties.
You may even be lucky and get access to specialist lenders with great deals not available to the general public.
Credit History, Deposit, And Security
Lenders will look at your credit history to determine how risky a borrower you are. Your chances of securing a mortgage can be negatively affected by recent defaults, missed payments, or repossessions.
It may be a barrier, but it's usually not a deal breaker, and you may be eligible for bad credit mortgages.
Lenders may also ask for a larger deposit because a timber-framed house is considered a non-standard property with higher risk.
You'll also find it easier to sway lenders in your favour when you offer security like another property against the mortgage.
Local Demand
As a non-standard property, a timber-framed house may be in lower demand than other properties, which can affect your chances of getting a mortgage.
Lenders will need reassurance that it's possible to get a quick sale in case of foreclosure so they can make back their money. This is another situation where a mortgage adviser can save a lot of time and effort.
They can help you reassure lenders by showing that the local housing market has many non-standard houses that consistently sell well. Thanks to their knowledge of local demand, they can also help you find local lenders who are more amenable.
Self-Build Mortgage for A Timber Framed House
If you're looking to construct a timber-framed property, a Self-Build Mortgage can be suitable. Lenders will require that you have the expertise and means to build it or at least be able to oversee its construction.
Timber frame is often preferred among self-build mortgage borrowers because it's a relatively quick method of construction and it has energy efficiency benefits.
With a Self-Build Mortgage, funds are released to you in staged payments or drawdowns as the construction work progresses. Many lenders will undertake site inspections before releasing the funds at each stage to ensure the job is going as planned.
Related guides: 
Buy To Let Mortgage On A Timber Framed House
You may get a Buy-To-Let Mortgage on a timber-framed property if you meet the lender's eligibility criteria. The variables that affect whether the mortgage for a timber-framed house will be approved are the same for residential and commercial properties.
However, the affordability assessment will likely be different. Lenders can base their lending decisions on the viability of the investment and whether the forecasted income from rent payments can adequately cover the monthly repayments.
Mortgage For A Timber Framed Extension
Most lenders will be cautious about the type of external finish they permit, and you may have to find a specialist lender for a timber-framed extension.
Timber frame extensions require less labour and can be less expensive than traditionally built ones. However, it's advisable to ensure the value the extension adds to your home exceeds the amount it will cost.
Related guides: 
Mortgage For A House With Timber Cladding
Some lenders may accept decorative cladding over blockwork, but others will turn you away outright if the property doesn't have any blockwork underneath the cladding. Timber cladding may scare away lenders because of the maintenance required.
You have to maintain timber cladding regularly, and if you fail to keep up, the home's value will quickly depreciate.
This can make it difficult or even impossible to resell it. Your choices may be restricted by the extend of timber cladding coverage on the property.
Some lenders may only consider you if it's limited to the first floor and the ground floor is block and brick. Others will still lend to you even when the entire property is covered.
Mortgage On Timber-Framed House Final Thoughts
An independent mortgage adviser is your best bet in getting the financing you need for the property you want regardless of whether it's standard or non-standard, like a timber-framed house. Consult with an advisor before making an application.
Call us today on 01925 906 210 or contact us. One of our advisors can talk through all of your options with you.
Further reading: