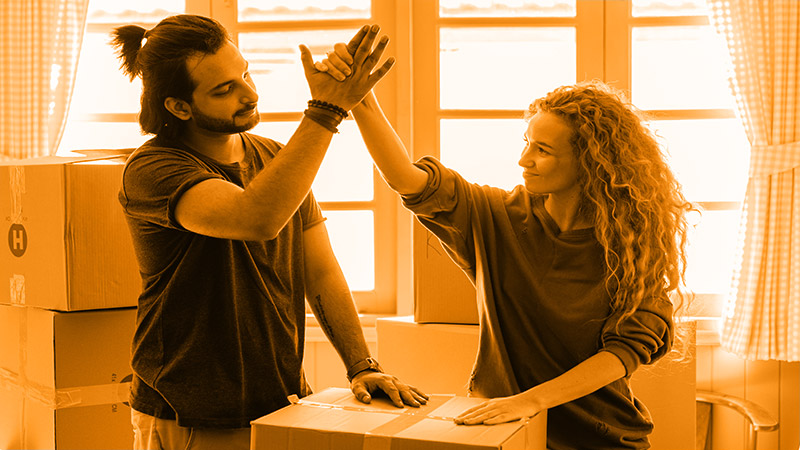 Getting a mortgage is essential when buying a home, and it's normal to have questions about the processes involved and their timeline.
These can include how long does it take to complete a mortgage application?
How long does it take to get a mortgage approved?
Or how long does a mortgage offer last?
Knowing how long it will take can help you plan your move and avoid hold-ups. Read on to learn more about the entire mortgage process timeline in the UK.
How Long Does a Mortgage Application Take?
A mortgage application involves a few different stages that can impact how long it takes, including the complexity of your situation, the lender you're applying with, and the information they ask for.
It's usually a simple and smooth process that includes the following:
Getting the Mortgage in Principle
The first step is to get a mortgage in principle (MIP), also called a decision in principle (DIP).
The MIP is a certificate from the lender that gives you an idea of how much you can borrow to purchase a home 'in principle.'
It's optional and not binding and can help you when house hunting since it shows sellers and estate agents that you're a serious buyer likely to get a mortgage.
How Long Does Getting a Mortgage in Principle Take?
Getting a MIP is quick as most lenders allow you to apply online and give an instant decision if you have all the necessary documents ready.
It can take up to 24 hours or less and remain valid for 30 to 90 days.
During this time, you'll need to view properties and have an offer accepted on your chosen home.
What Documents Do You Need for a Mortgage in Principle?
The lenders will require basic information like your income, expenses, and how much you've saved for a deposit and will check your credit history.
It will involve a soft search that doesn't impact your credit file, and you'll need original documents like:
Three months' worth of payslips is employed
Valid ID like a passport or driving license
Bank statements from the last three or six months
Tax returns for the previous 12 to 36 months if self-employed
Mortgage Application
Once you've found a property you'd like to buy, it's time to apply for a complete mortgage application.
You can apply with the same lender who gave you the MIP or with a different lender if they offer a better deal.
Going with the same lender can speed up the application process and make it easier since you've already started on the preliminary steps.
How Long Does It Take to Complete a Mortgage Application?
Filling out a mortgage application isn't lengthy, and it can take less than 24 hours, provided your finances are in order, and you have the necessary information and documents ready.
Most lenders and brokers use an electronic submission process and will need the following documents in addition to the ones supplied for your MIP:
Proof of earnings from the last three years
A P60 form is employed
Council tax and utility bills for the last three to six months
Estate agent details and address of the property you want to buy
Expenditure details like childcare, insurance policies, entertainment, and travel costs
Proof of any other income, like benefits
Personal loan and credit card statements
Mortgage Approval
After submission, the lender will review the application and supporting documents and conduct a hard credit search recorded on your credit file.
Lenders will look at how much you're currently borrowing and your reliability as a borrower based on your past financial obligations.
The lender will arrange a valuation of the property you wish to buy to ensure it's worth what you're paying.
An independent surveyor will visit the property and carry out structural checks.
It can take around 24 hours, after which they'll create a report with a final decision on the property value.
If everything is in order, you'll get a formal mortgage offer.
How Long Does It Take to Get a Mortgage Approved?
It can take two to four weeks from applying to getting a mortgage offer.
However, it can be shorter or longer, depending on the complexity of your application.
Lenders will need a few weeks to complete the relevant checks, and the process can get held up if the valuation report is inconsistent with the amount you're applying for.
Your application can get declined, adding a few more weeks to your mortgage journey for another application. The lender can also set a higher interest rate or request a higher deposit.
How Long Does a Mortgage Offer Last?
Mortgage offers usually last around six months and show the exact date the offer expires, providing enough time to complete your property purchase.
Once the deadline has passed, you may need to reapply with the same lender or another, and they'll re-examine your circumstances.
Some lenders can accept to extend your offer for around a week or less, depending on their internal policies.
How Long Does Mortgage Completion Take?
Completion is the final stage of the mortgage application process, and it involves exchanging contracts with your seller and paying your deposit to make the property sale legally binding.
You can exchange contracts around two months after receiving the official mortgage offer.
However, it can take longer if you're joining a chain of other buyers since the progress of their purchases will have a knock-off effect on your timeline.
The longer the chain of properties, the slower the process can become, as it can be difficult to speed up this part.
Once you exchange contracts, your lawyer will organise the completion date with the seller's lawyer.
You'll take ownership of the property on the completion date and get the keys to your new home, although you don't have to move in immediately.
How Long Does It Take to Get a Mortgage? Final Thoughts
Being prepared as much as possible can help avoid delays and speed up the mortgage process.
Using a mortgage broker or advisor can also make the process easier and quicker since they have experience arranging mortgages and know what lenders require and which are likely to approve your application.
Call us today on 01925 906 210 or contact us. One of our advisors can talk through all of your options with you.