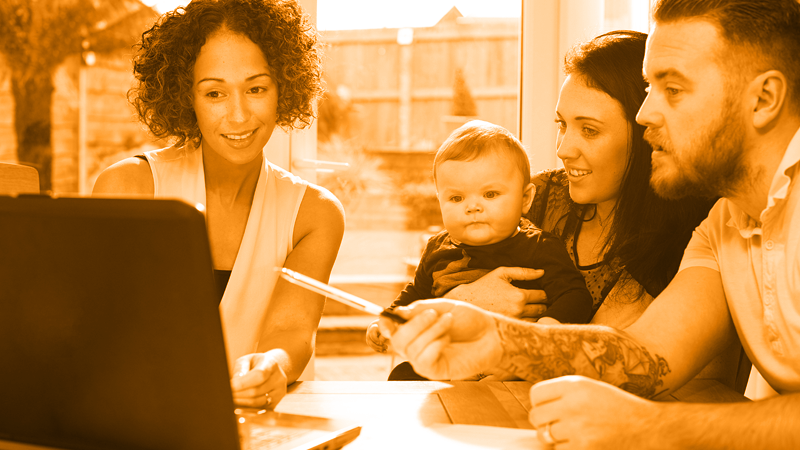 When budgeting for buying a house there is so much more to take into consideration than the cost you're willing to go to for your property.
The deposit that you are initially putting down is only the start of the outgoing costs of buying a home.
There are the likes of fees, stamp duty, and other charges that you will be expected to pay, both before completion and after completion.
To help you with your budgeting when buying a house, we have put together a guide on all the fees you can expect to pay and when you may expect to pay them.
Fees Before Completion
Long before you get the keys to your new home, there are numerous fees and cost that you need to pay. Here are the fees that come prior to completion.
Mortgage Costs
There are quite a few fees involved in the process of securing a mortgage.
Deposit – The deposit for your home is the biggest cost you will have to pay before completion. How much you will pay depends on the cost of the property and the type of mortgage you signed up for. For example, if you went for a 90% mortgage, you would need to put down 10% of the property's value as a deposit.
Arrangement Fee – This is charged by your lender primarily for their administration costs. These fees are now an integral part of a mortgage and often directly affect your lender's interest rate. You can either pay the arrangement fee up front or you can add it onto the cost of your mortgage. If you add the arrangement fee on the cost of your mortgage you will be paying interest on it, but if you pay up front and something goes wrong with the purchase, you may lose the money entirely.
What you may choose to do is to add the fee onto your mortgage and then immediately overpay your mortgage upon completion to pay it off straight away to avoid extra interest. Most lenders allow an overpayment of 10% of the outstanding mortgage balance each year without penalties, but it is always a good idea to check with your provider to make sure.
Booking Fee – There are a few lenders that may charge you a booking fee to secure you a good rate on a tracker, fixed-rate, or discount mortgage. The cost is usually no more than £200, but it is non-refundable.
Valuation Fee – Charged by your lender, the valuation fee covers the cost of determining your property's worth. This is so your mortgage provider knows they can get a decent return on their investment if you fail to keep up with repayments. It, therefore, determines how much your mortgage provider is willing the lend you. The valuation fee depends on the purchase price and type of valuation chosen. Sometimes the lender will offer a free basic valuation.
If you are wondering how long a mortgage application takes to approve, the answer is that it depends on a range of factors. Make sure you are aware of the credit score requirements before you submit your application and the fees involved in buying a property.
Homebuyers Report/Full Structural  – You are not required to pay for a detailed survey but it is certainly recommended. This would give you a thorough report on the property and whether there are any issues that need to be dealt with, such as structural problems, damp, or plumbing issues.
If there are any problems, this survey may be used to renegotiate a better price. A full structural survey usually costs between £400 and £700 although a Homebuyers Report is cheaper and may be discounted through the lender.
Mortgage Broker Fee – You may need to pay your mortgage broker for acting as an intermediary between you and the lender. With some brokers, you may need to pay a fee upfront to get the process moving and a final fee upon completion.
Stamp Duty and Land Tax
Stamp Duty is a government tax in England and Wales that is paid on homes costing more than £125,000.
However, if you are a first-time buyer, you get a little more leeway and will only pay Stamp Duty on the first £300,000 for properties costing up to £500,000. For house costing between £125,001 and £250,000, buyers will pay 2%.
For houses costing more than £250,000, the buyer will pay the 2% and then 5% on the amount that is over £250,000 up to £925,000.
Between £925,001 to £1,500,000, you will pay 10%, and on the amount above £1,500,001, you will pay 12%.
If you live in Scotland, instead of Stamp Duty you will pay the Land and Buildings Transaction Tax Rate.
You don't have to pay this on the first £145,000, pay 2% on the cost between £145,001 and £250,000, and pay 5% on the cost of your purchase between £250,001 and £325,000.
Our expert mortgage advisors will be able to give you further information on the Stamp Duty and Land tax you can expect to pay, depending on the cost of your intended property.
Solicitor Fees
You will require a solicitor to take care of all the legal work that comes with buying a home. These include dealing with transferring ownership between parties, checking for any hidden problems that could affect you immediately or in the future, checking that your paperwork is correct, and registering the property in your name with the Land Registry. Some mortgage companies in England and Wales will cover these fees if you go with one of their chosen solicitors. Alternatively, your provider may give you some cash back on completion to go towards the legal costs.
Expect to pay around £1,000 to £2000 in legal fees that will be paid throughout the buying process and upon completion. You can use your own solicitor, but they will have to be agreed upon by the mortgage company as they will handle the legal work for all parties.
Insurance
Your lender will not accept any mortgage application without buildings insurance, which will protect both your and their investment against fire, subsidence, flooding, etc.
Although it not required by lenders it is also wise to have contents insurance to cover your possessions, as well as life insurance that will pay off the mortgage if something were to happen to you.
Fees After Completion
Even after you have exchanged keys and contracts, there are some extra costs and payments, some of which are ongoing. These include:
Ground Rent and Service Charges
There could be further fees to pay upon completion of your house purchase, such as if your property is a leasehold, where you don't actually own the land, instead of paying to rent it from the freeholder for many decades. In these cases, you might have to pay a service charge for upkeep as well as ground rent.
If you are moving to a freehold, which has communal areas, which are shared by a number of neighbours, you will probably have to pay a monthly maintenance cost for the upkeep, such as gardening costs, fixing the roof etc.
Moving Costs
Moving can be an expensive business – the cost of a removal company could cost between £100 and £1000 depending on the amount of stuff you need to be transported. You could save yourself some money if you have some willing friends and family members that can help you out. Even better if one of them has a van.
Mortgage Repayments
Make sure you sign up for a mortgage that you can actually afford. Failure to pay your mortgage could result in your home being repossessed. In the years following your house purchase regularly reassess your mortgage options to ensure that you are always getting the best rate you can. It could save you thousands of pounds over the term of your mortgage.
Furnishings and Decorating
It is important to factor into your budget any furniture, white goods, or decorating that your new house will need to make it liveable to the standard you would like.
This is especially true if you currently rent a furnished place, as you will need everything – you really don't realise how much stuff it takes to make a functional home until you buy your first home. From the small things like lightbulbs and cutlery to the big stuff like beds and the boiler (expect to pay somewhere in the region of £1,500 – £2,000 for one of the best combi boilers!). All these costs add up, so you will need to be sure you have some money put aside in your budget unless you want to live in a shell for a few years.
Make sure you know what comes included within the cost of your home – if the likes of the white goods are not written down in the contract, you cannot be sure that they will be included in the sale. You need to be aware of any extra costs.
Types of First Time Buyer Mortgages
For a more in-depth look into some common types of first time buyer mortgages, check out our following guides:
Or if you want a more general overview check out the different types of mortgages.