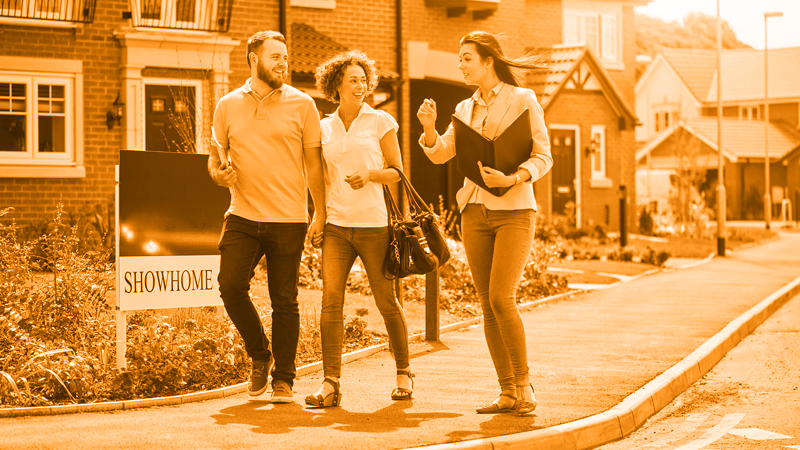 What is a Shared Ownership Property?
When searching the property websites, there will be Shared Ownership properties which catch your eye as they are often very reasonably priced compared to similar properties within that area.
Read that property advert in a little more detail and in fact you see in the write-up that the price advertised on the property is for "Shared Ownership" and the sale price will be for a percentage share. Usually between 25% and 75%.
The remaining percentage will be owned by a housing association.  It's a kind of somewhere in between buying and renting which appeals to some people who want to get on the property ladder.
The property may very well be a new build property where the developer is working in conjunction with a housing association and offering the Shared Ownership properties as a way of affordable housing.  There are also re-sale Shared Ownership properties, in other words, used or 2nd hand properties.
Who can buy a Shared Ownership Property?
Shared Ownership properties are often attractive to people who may not be able to afford to buy a property in the usual way with a deposit and a mortgage and own the property outright. You will still need a deposit though and I will go through this a little further on.
The Government set out guidelines for local housing associations as to who is eligible to purchase a Shared Ownership property. The current guidelines are as follows.
The Household income is £80,000 or less.  (This is different in London where this figure is £90,000 or less).  In addition to this earnings cap, the following also applies.
You are either a First Time Buyer or a current non home-owner who cannot afford to buy a new home in the standard way.
You are an existing shared owner.
If you are over 55 there is a slightly different scheme called the Older Persons Shared Ownership Scheme.  The difference with this scheme is the maximum percentage you can own of the property is set at 75%.
If you're wondering how long a mortgage application takes to be approved, the answer is that it depends, you can improve your chances by ensuring you meet your lender's credit score requirements.
It's also a good idea to familiarise yourself with the different types of mortgages and the fees involved with buying property.
Types of First Time Buyer Mortgages
For a more in-depth look into some common types of first time buyer mortgages, check out our following guides:
Can I buy a bigger percentage of the property?
Yes, you can! This is known as "Staircasing". However, you will have needed to have had your Shared Ownership property for a specific amount of time before you can look to buy a further percentage.
This qualifying time period will be set out in the terms of your lease.  If you want to buy an additional share in the property, the share value will be based on the current market value of the property.  Each time you want to buy a bigger share, you are likely to incur the cost of the valuation fee.  Your mortgage requirements are likely to change also so you will need to get advice from your mortgage adviser on this.
Of course, one benefit of buying a bigger share is that your rent will reduce with the housing association.  If you get to the stage where you own 100% of the property, then you will have no rent to pay at all and you will be a fully-fledged homeowner!
Pros and Cons of Shared Ownership?
If you are fed up with renting or the prospect of owning your own home seems a million miles away, then it can help you get on the property ladder. Also, as it is just a share of the property you will own, then your mortgage amount will be much smaller, your deposit amount is likely to also be smaller.
You do have the option to buy the property outright as I mentioned earlier by Staircasing, so as your financial position changes this can be something that is achievable in the future.
Although you do not own 100% of the property, you are responsible for the full maintenance costs of the property, whereas if you rented you are likely to have your landlord to deal with these.  As mentioned earlier the valuation fees incurred should you wish to increase your percentage share can be seen as a downfall.
The staircasing share will depend on the market value of your property at that time, which may mean it is beyond your affordability to buy that extra share.  The rent charged by the housing association can also mean, in addition to your mortgage payment – it could work out less attractive cost-wise as you initially thought.
How does a Shared Ownership Mortgage work?
You will own a percentage of that property using your deposit and a mortgage to purchase it and you will pay rent to a housing association on the remaining amount.  The percentage share that you own is usually between 25% and 75%.
An example being:
Property advertised £75,000 which is a 50% shared ownership property. (Full value of the property being £150,000).
You have 10% deposit to put down (10% of your share price) £7,500
Your mortgage borrowing amount is £67,500
You will pay a monthly mortgage amount to your mortgage lender and in addition, you will pay a rent to the housing association.
It is worth noting, the rent can differ greatly on property to property and it is set out by the housing association.  One of the first questions you should ask when considering a Shared Ownership property is the monthly cost of this rent.  Also, as the property is likely to be leasehold you will also need to know how much the ground rent and the cost of any service charges applicable.
How do I look into a Shared Ownership mortgage?
Not all lenders offer Shared Ownership Mortgages, so this is another area where a Mortgage Broker will offer added value and save you lots of time. We will discuss your requirements and very early on in the process discuss your deposit, the percentage share you are looking to obtain a mortgage for and assess your affordability.
To accurately do this and to avoid disappointment further down the line we will need to include accurate costs such as rent, ground rent and any service charges so the more information you can obtain from the housing association the better as it helps us paint the clearest picture to the lender with the aim of getting your mortgage accepted.
These will all be included as monthly commitments and will form part of the affordability check.  There are some lenders that will require a larger deposit than others so this is certainly one key factor that we will look at to ensure we place you with the right lender for your individual circumstances.
Should you have any further questions about a shared ownership mortgage, please get in touch and we will do our best to help.