Buying your first home is always an exciting time. Whatever questions you might have, we're happy to help you to take that first step onto the ladder by helping you get a first time buyer mortgage.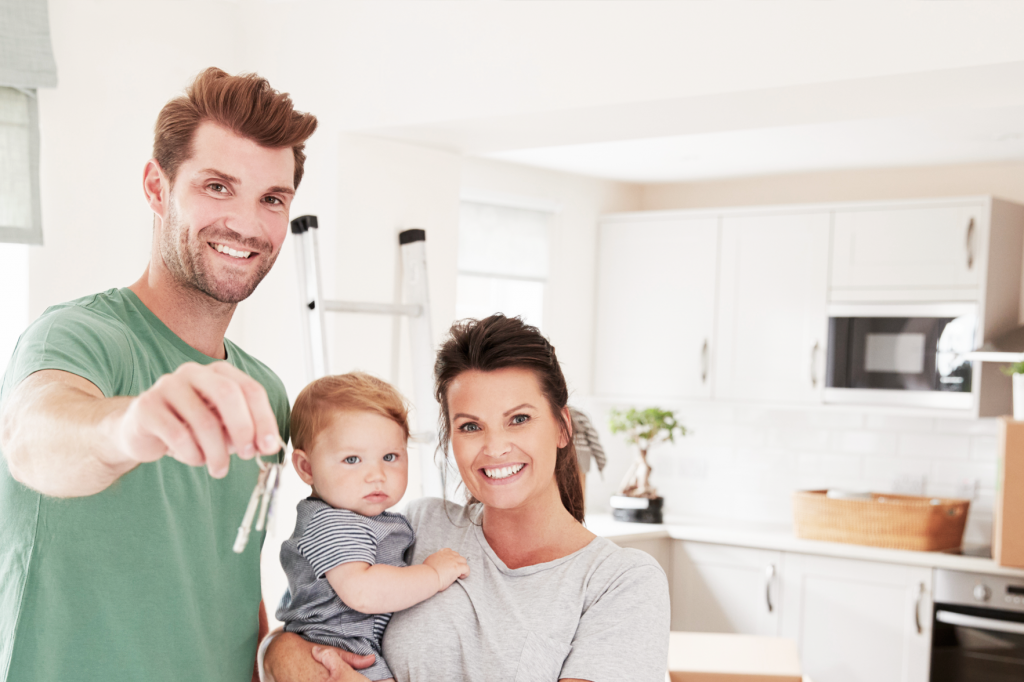 I'm a first time buyer. How do I get a mortgage?
So, you've found the perfect house, and you're ready to put in an offer, exciting stuff.
First of all, an estate agent will probably want to check that you've got a Mortgage Agreement in Principle in place. In fact, if you haven't even started your house hunt yet, now would be a great time to get one of those.
The good news is, we can get one sorted for you in no time.
Unlike most high street banks, we have access to over 90 lenders to suit all kinds of circumstances.
We'll help you to find the best first time buyer mortgage to get you on the property ladder, whether that's a mortgage with a low interest rate or even a lender offering free valuation or legal fees.
How much can I borrow as a first time buyer?
When applying for a first time buyer mortgage, several things are taken into consideration such your annual salary, your monthly outgoings and the deposit amount you've managed to save up so far.
Have a chat to us about your situation, and before you know it, we'll get to work sorting out your Mortgage Agreement in Principle.
Once you've got that, you'll have a much better idea of exactly how much you can afford, and what your monthly mortgage repayments might be.
If you're wondering "how long does a mortgage application take to approve?", the answer is it depends on a number of factors determined by you, the buyer, the seller and local authority.
Your credit score is also an important factor when applying for a mortgage.
How much should First Time Buyers save towards a deposit?
As much as you can. As a general rule, the more you can save towards a deposit, the better your first time buyer mortgage rate will probably be.
Aim to put down at least 5-10% of your chosen property's value. So if you're looking to buy a £100,000 house, try to save at least £5,000-10,000 as your deposit.
Related reading: 
If you can save even more than that, all the better. The very best mortgage rates are available to buyers with a large deposit. Put down 30-40% of the property's value and you could be in for some very favourable interest rates indeed.
Are there any extra fees to consider as a First Time Buyer?
Yes, there are. As well as your mortgage and deposit, there are a few extra fees to pay when you buy your first home.
Legal fees – These fees cover Land Registry costs and conveyancing during the process of the sale.
Surveyor's/valuation fees – make sure that you choose the most suitable type of survey for the house you're buying. A newer build will need a less comprehensive survey than a home built 100 years ago. Don't leave it to chance… you don't want any nasty surprises further down the line.
Stamp duty – Good news. Following the introduction of new legislation, homes costing up to £300,000 are now exempt from stamp duty land tax for first time buyers. However, if you're buying a house worth more than this, you'll need to pay stamp duty upon completion. Remember that this cost cannot be added to your mortgage.
Moving costs – remember to set some cash aside to pay for things like removals, furniture and home insurance.
You will be pleased to know that our advisors can carry out a "Cost of Moving" calculation for you, which will give you an idea of how much money to set aside for these fees.
Recommended: Learn more about the different types of mortgages and the fees involved in buying a home.
How to boost your chances of getting a first time buyer mortgage
The good news is that as a first time buyer you're already pretty attractive to sellers. Nobody likes a chain, and first time buyers may be able to obtain a property with a lower offer if they are not weighed down with a complicated chain behind them.
But how can you make the banks want to lend to you? All they want is evidence that you will be able to keep up with your mortgage repayments. Here are some things you can do to put them at ease.
Pay off things like your credit cards, phone contracts and utility bills on time.
Show them that you can cope with fixed costs like childcare, as this may have an impact on how much they are prepared to lend.
Try not to make any new credit applications in the six months before you apply for a mortgage.
Thanks to new affordability criteria, lenders will now scrutinise not only your salary but your spending. Now might be a good time to cut back on those weekly treats (or that dusty old gym membership).
Check out our mortgage rate history guide and our mortgage interest forecasting for the next 5 years here.
Types of First Time Buyer Mortgages
For a more in-depth look into some common types of first time buyer mortgages, check out our following guides:
First Time Buyer – Ready to get on the property ladder?
If you're ready to take the leap, we're ready to help you with your first time buyer mortgage application.
As a first time buyer, it's natural to have a lot of questions. Ask away, one of our friendly advisors would love to talk things through with you.
Call us today on 01925 906 210 or complete our quick and easy First Time Buyer Mortgage Application.