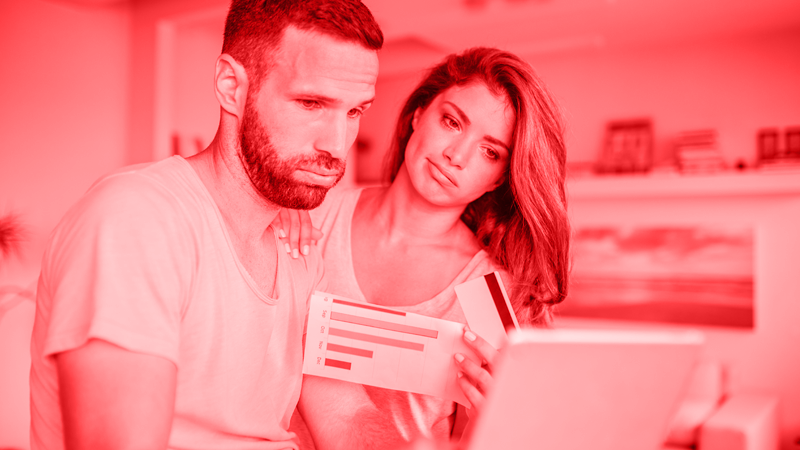 Of course, everyone wants to make sure that they are getting the best available interest rate when they take out a mortgage.
However, if you have bad credit you will most likely find that you are not eligible for the most competitive rates on the market.
Interest rates offered to bad credit customers are usually considerably higher than those provided to customers with an unblemished credit history.
This is merely down to the risk factor you pose to the lender.
All is not lost though as there are more lenders out there who can still get you a good deal on mortgages with bad credit.
Our aim is to help you understand how your credit history can affect how your mortgage is affected in terms of eligibility and rates depending on your current circumstances.
Hopefully, you will find the answers to any questions you may have below.
How do lenders treat applications from bad credit customers?
Over the last few years, there has been an increase in the number of lenders entering the mortgage market with a lot more willing to take a more flexible approach to applications from those with bad credit.
More providers now than ever are approving mortgages for customers with a less than perfect credit history.
Obviously, those with minor credit flaws will be more likely to qualify for the better interest rates whereas those with more severe credit issues will face rates at the higher end of the scale.
The market sector has changed insignificantly in the last 10 years and has now become more competitive for bad credit customers.
You must ensure that you are using a specialist advisor in order to get the best deal. Contact one of our expert advisors who are on hand to help you today.
Do lenders have different criteria?
Most lenders don't make their criteria public knowledge, so it often feels like stepping into the unknown when applying for a mortgage when there are so many providers in the mortgage market.
Still, there is a wide range of professional and specialist brokers available to help.
It is our job to make the process as simple as possible by pairing you with a specialist lender who will make you the best offer based on your circumstances.
Note: Are you looking for commercial property but have a bad credit history? Bad credit commercial mortgages may be an option for you.
How different credit issues impact the rates you may be offered
Whilst some credit issues weigh heavier on your credit report than others, it is worth mentioning here that the type of credit issue you have experienced may determine the interest rates that are available to you, if your application is even successful that is.
Bankruptcy, for example, has a bigger impact than say a missed or late payment but all these things are carefully considered by the lender when reviewing your mortgage application.
Credit issues can vary from arrears to CCJs and right up to the more serious factors such as bankruptcy and repossession.
Although you may still be able to get a mortgage with a CCJ or default.
Don't be put off if you have one or more of these marks on your credit file as there are specialist providers out there that may still offer you a favourable rate.
Obviously, the more adverse issues that appear on your credit file, the less chance you have of securing a lower rate on your mortgage. Some lenders may look less favourably on your application if you have multiple adverse issues on file.
How does the upturn in the market affect bad credit mortgage rates?
If you look at the current mortgage rates online, it is clear to see that business is booming and lenders are feeling more confident.
This has had an influence on the bad credit mortgage sector but in a positive way.  If you look at the rates from 10 years ago on a bad credit mortgage, you will see that the market now is much more competitive.
This enables borrowers with a less than perfect credit history to still apply for and obtain a mortgage, whilst not paying unreasonably high rates.
If your credit issues were minor, then you may even be in a position to obtain a mortgage using similar providers and having access to similar mortgage products than those with a clean slate.
Does the LTV (loan to value) have an impact on mortgage rates if I have bad credit?
Loan to value ratio is basically the size of your mortgage balanced against the value of the property you want to purchase.
This term is often explained as a percentage. For example: If your mortgage was £100,00 against a £125,000 house or property then the LTV ratio is 80%. The remaining £25,000 is made up by the deposit.
Depending on your circumstances, the LTV is changeable. In order to offset some of the risk bad credit customers pose to the lender, they may ask for a larger deposit.
If your credit history has minor issues recorded then you may find that you won't need a larger deposit whereas if your credit history shows more severe issues such as CCJs and Bankruptcy then the lender may require you to stump up a higher deposit.
A more favourable view is taken to those customers who save a higher deposit, and this is quite simply down to the fact that you pose less of a risk to the lender.
Essentially, the more deposit you have, the better your position in the mortgage market and you should find that you will likely have more favourable mortgage rates available to you as a bad credit customer.
Make an enquiry with one of our specialist advisors today to discuss the options available to you.
Can I get a cheap mortgage with a poor credit history?
No two lenders are the same and each one has different criteria which must be met before they will consider or accept your mortgage application when you have a poor credit history.
If the lender deems that you have scored well on your affordability check then chances are you may be eligible for better rates.
Does the date the adverse credit was recorded affect the rates that are available to me?
Quite often, the mortgage rates available to you are calculated based on how long your credit issues were recorded.
It is important to note that you can obtain good rates on your mortgage if the credit issue no longer appears on your credit report (older than 6 years).
High street lenders may be quick to turn down your application from the outset if you have a poor credit history of a more serious nature e.g. Bankruptcy.
However, some will make exceptions depending on the length of time the adverse issue has been on your report.
It is difficult to determine at which point in your credit journey that you will qualify for the best interest rates.
Our specialist advisors are on hand to work with you and connect you to the best mortgage providers on the market, with your circumstance in mind.
My credit issues are still outstanding. Does this matter?
Yes. Most lenders only consider lower mortgage rates for borrowers whose adverse credit appears as settled on their credit file.
Some lenders may expect you to wait until your credit issues have been resolved before you can proceed with your mortgage application if you want to be considered for lower rates.
As well as impacting the rates available to you, unsettled credit issues can also affect the amount you can borrow for a mortgage.
Lenders will carry out affordability tests to ensure that you can afford the repayments on any mortgage that you are considered for.
The outcome of these measures will determine how much you can apply for.
In summary, the following will likely be considered when your mortgage rates are being decided upon:
Interest Rates available.
Amount of credit issues you have recorded on your file.
How long ago the credit issues were recorded.
If the credit issues have been settled.
The number of lenders available based on your current circumstances.
The key to finding the best rates available to you based on your circumstances is talking to a specialist advisor.
If you have a bad credit history, you are best speaking to an advisor whose speciality is bad credit mortgages.
Many high street lenders will turn bad credit customers away from the onset or even offer them ridiculously high mortgage rates to offset the risk they pose to the lender.
Our advisors will not turn you away. Our aim is to connect you with the best mortgage providers in the market whilst getting you the best deal available.
We will work with you to ensure that your circumstances and specific needs are catered for in the application process.
We can also help advise you on buy to let mortgages if you have poor credit.