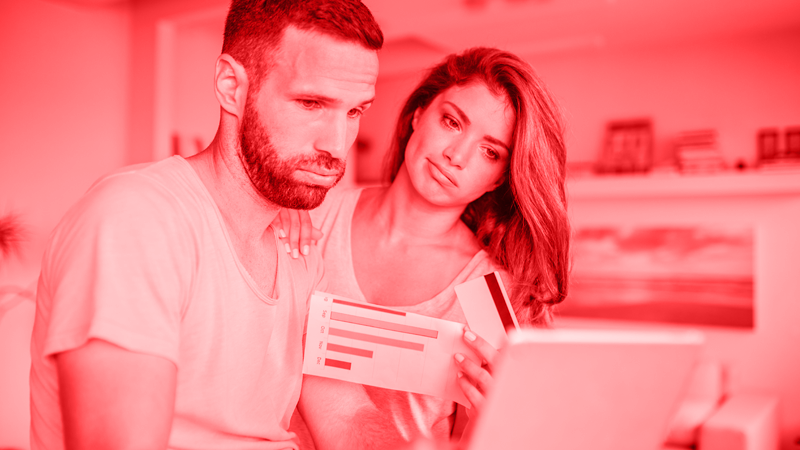 You'll usually pay higher interest rates on unsecured borrowing than secured borrowing.
So if you're stuck paying high levels of interest on your debts, it could be worth looking into a debt consolidation mortgage. 
What is a debt consolidation mortgage?
Are you struggling to make ends meet each month?
If your debt just doesn't seem to be decreasing, it's probably because the payments you're making are just covering your interest payments, and not the debt itself.
In some cases, it can take years to pay off a credit card if you're only able to make the minimum monthly repayments.
A remortgage for debt consolidation allows you to take out a mortgage large enough to pay off an existing mortgage, while also covering all of your existing debts.
How does it work? 
In order to qualify for a re-mortgage, the lender will take into account the following:
Your credit report and any current debts you hold.
The value of your property.
How much of the property you own.
The amount you want to borrow vs your income.
Typically, lenders will also request you to agree and sign an undertaking drawn up by a solicitor before approving the remortgage.
An undertaking is an agreement that you will repay the debts in full upon the release of the funds, however, if your income is sufficient to make the repayments itself, then this won't usually be necessary.
Note: If your current mortgage interest rate is highly competitive and you do not want to lose it, then a remortgage may not be the best option for you and you may also want to consider a second charge loan.
Why would you consolidate your debts into a mortgage? 
By consolidating your unsecured debt next time you remortgage, you can quickly reduce your monthly outgoings and comfortably pay back what you owe in a realistic time frame.
The main benefit of a debt consolidation mortgage is a dramatic decrease in interest rates.
The other benefit is streamlining your payments into one monthly instalment, so there's no need to worry about numerous payments over the course of the month. 
And there's no need to worry about receiving a CCJ or IVA in the future. 
With a debt consolidation mortgage, you could pay off the following types of unsecured debts:
Credit cards.
Personal loans.
Overdrafts.
Is a debt consolidation mortgage a good idea?
For many individuals, a debt consolidation mortgage can certainly be a good idea, but it should be something that is considered with care.
Even though consolidating multiple debts is attractive as it can convert your debts into a single instalment and reduce your rate of interest, there are some key things to be aware of and so you should always seek professional advice first:
There may be cheaper alternatives than a remortgage, such as balance transfer credit cards.
Transferring unsecured debts into a secured debt against your home means that your property acts as collateral and so is at risk if you fail to keep up with repayments.
Although the interest rates on a mortgage can be lower, they are usually much longer, so you may end up paying more. By adding other debts onto your mortgage, you may end up paying interest on them for a longer period of time.
How much can you borrow? 
The amount you can borrow will be dependent on the amount of equity in your home, current debts, credit history, as well as whether or not you meet the lenders affordability criteria.
Your debt-to-income ratio may also be taken into account, though each lender will allow you to borrow in line with the specified limits.
For example, some lenders may allow you to borrow as much as 90% of the loan-to-value (LTV) ratio for properties exceeding a valuation of £500,000 and over, while others may only allow you to borrow a specified amount e.g. £20,000.
Other lenders may be more focused on how your original debts were gathered in the past and base their decision on a case by case basis, rather than your debt-to-income ratio.
Debt consolidation vs. Second Mortgage 
The main distinction between a debt consolidation mortgage and second charge mortgage is that a second charge mortgage is essentially a secured loan, which uses your home as security.
A debt consolidation remortgage puts your mortgage on a new deal and releases equity to pay off the debts.
A second charge mortgage means you will have a first mortgage/first charge loan, as well as the second mortgage that can be used to pay down debts.
The main advantage of a second charge mortgage is that it allows you to keep your mortgage and the associated interest rate, so is ideal for those wanting to keep their current interest rates.
How can I consolidate debt as part of my mortgage?
There are two main ways to consolidate your debt with your mortgage.
Remortgage your entire debt over to a new mortgage lender. This method lets you arrange a new mortgage for the value of your current mortgage, added to the debt you have. For example, if you have a mortgage to the value of £150,000 and debts of £25,000, you would take out a new mortgage with a new lender for £175,000. If you own a property where you have a suitable amount of equity, this is a useful solution. By doing this, you can also release equity which will allow you to pay off some of the money you owe using a lump sum. At the moment, with some lenders, the maximum Loan to Value (LTV) ratio allowed to do this is 90%. This means that if you own a home worth £100,000, the maximum you could borrow (including your existing mortgage) would be £90,000. If you want to pay less and lower your monthly payments, this is a good option because the mortgage rate will usually be the best available to you at the time.
Take out a new loan secured on your current mortgage. With this method, you'll essentially have two mortgages on your home. For example, you might decide to keep your current £150,000 mortgage and also take out a new secured loan for the value of your £25,000 debt. If you choose this option, it's worth remembering that your monthly repayments probably won't drop as considerably. This might also be a better solution for those with a poor credit rating, or those who want to retain their current mortgage deal.
Things to consider before consolidating your debt into your mortgage
There are several things to consider when looking at consolidating your debts into your mortgage, such as the following:
The amount of equity in your home – some lenders may consider a 90% LTV remortgage, however in most cases, 85% is the maximum LTV for debt consolidation, so you need to ensure you have enough equity in your home currently to cover your debts. The lower your current LTV, the better as otherwise you may enter the next LTV band meaning a higher mortgage interest rate. Work out your current LTV, and what your LTV will be once you've added your debts to your mortgage, and if it is 85% or under then you may be able to get a debt consolidation remortgage with us.
Check if your current deal allows additional borrowing on your mortgage – if you can get extra borrowing on your mortgage, find out if there are any fees and rates available.
Check if you can remortgage now – if you're in the middle of a fixed rate, you may have to wait until the end of that term before you can apply for additional borrowing to avoid paying early redemption charges; so be sure to check the terms and conditions of your current mortgage deal. If you're at the end of a fixed-term mortgage (such as 2 or 5 years), you may be able to remortgage with another lender and not incur early repayment charges.
You'll be paying the debt over a longer-term – your monthly payments will be considerably lower, however as they've been added to your mortgage term, it's likely you'll be paying the debt over a longer period than the initial terms of your unsecured debts.
What type of debts can I consolidate with a remortgage?
Typically, most unsecured debts can be consolidated when you remortgage.
Examples include:
Credit cards.
Unsecured personal loans.
Car finance.
Hire purchase agreements.
Some lenders ask for proof that the debts have been paid as part of the conditions of the mortgage offer, so be sure to get confirmation that the debts have been paid in case you're asked for proof in future.
Note: Bad credit commercial mortgages are also useful for those looking for commercial properties with a poor credit history.
Can I get a debt consolidation remortgage if I've got a bad credit history?
Depending on the severity of your credit history, you may be able to find a lender that suits your needs.
If you've had a few late credit card payments, in theory, you'll have more disposable income every month and the debt is secured, so you'll be deemed less of a risk compared to more unsecured borrowing.
Lenders will like to see a history of payments being kept up to date, so ensure that for at least 6 months before your application that all payments are made on time.
We'll help you find the right mortgage deal as we have access to over 80 lenders, so get in touch today to begin your debt consolidation remortgage application.
Mortgage Rates for Debt Consolidation
If in a considerable amount of debt many people attempt to clear it using a loan or a credit card, but the issue is that these generally have high-interest rates, so are not the best option for an individual already indebted.
An alternative route is to opt for a remortgage or a secured loan instead.
Since these are secured against your home, the interest rate offers you will receive are typically lower, allowing you to reduce your monthly outgoings and manage your debts better.
By consolidating all of your debts into a single loan, you will most likely reduce the amount of interest you will pay.
This means your debt will likely be easier to manage and pay off, making it less of a weight on your shoulders.
How do I know if a debt consolidation remortgage is the right choice for me?
If you're struggling to keep track of your monthly payments, or you're finding it difficult to make ends meet, a debt consolidation mortgage might make life easier.
Always think carefully before securing debts against your home, and bear in mind that in some cases, you might still end up paying more over a longer period of time.
Remortgage for debt consolidation Summary
We have access to more than 90 lenders, and we know a thing or two about debt consolidation mortgages.
If you'd like to talk to us about your circumstances, you can contact us on 01925 918960 or complete our quick Debt Consolidation Application Form and we'll be in touch. 
One of our friendly advisors would be happy to help you.