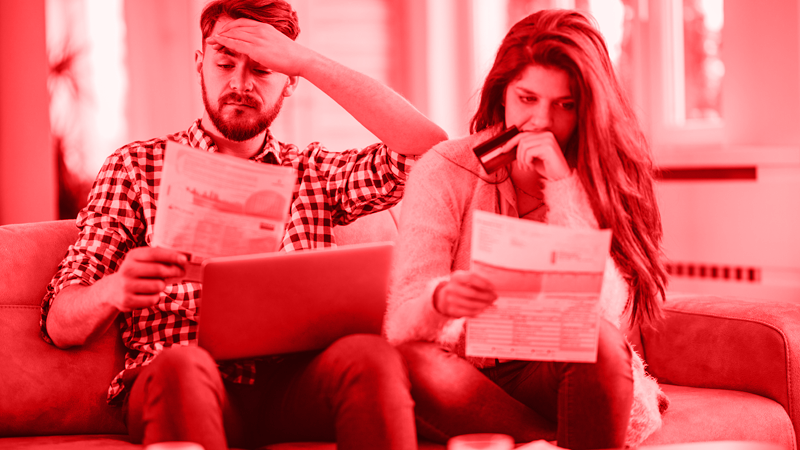 Having a poor credit rating doesn't mean you can't get a mortgage and you'll never own property. You may even be afraid to approach lenders for a mortgage in case you get turned down and your credit rating taking another potential hit.
Furthermore, it can be difficult to know if your credit rating is bad, as different banks and lenders will have varied opinions on credit based on your history.
If you're wondering how to get a mortgage with a bad credit rating, read on to find out everything you need to know about bad credit mortgages.
Is It Possible to Get a Mortgage with a Bad Credit History?
The short answer is yes. If your credit does fall into this 'bad' estimation, that doesn't mean that you can't get a mortgage.
It may be more difficult than if your credit was better, but there are specialist lenders out there that offer bad credit mortgages, giving you a chance to get on the property ladder.
Rather than look at the blemishes on your credit history, these lenders will look at the duration and severity of the issues, as well as how close you are to meet their eligibility requirements.
Specialist bad credit mortgage lenders are more flexible with their lending, compared to their mainstream counterparts.
With specialist lenders, your bad credit history or poor credit score may not necessarily stand in your way of getting a mortgage, providing mortgages to those with:
Missed mortgage payments or other late payments.
A poor credit score or no credit history.
Defaults in payments.
Debt management schemes or payday loans.
Multiple credit issues.
In terms of severity, bankruptcy and repossession are considered the most serious, whilst the likes of missed mobile phone payments are on the other end of the scale.
Are you wondering "Why your mortgage application was declined?", read on to find out how you may be able to avoid that in the future.
What Issues are Taken into Consideration for a Bad Credit Mortgage?
When you have poor credit or no credit history, other factors will be taken into consideration to determine whether you can actually afford a mortgage and the monthly repayments.
Firstly, your employment status and income will need to be disclosed to your lender.
The lump sum you have available for a deposit is also of great interest to a specialist bad credit mortgage agency.
For a conventional mortgage on a residential property, the usual sum required for a deposit is at least 5% of the property's value, but it may be more depending on circumstances.
For a buy to let home the deposit can be as high as 25%.
If you have bad credit, the ability to put down a larger deposit than the traditional mortgage lenders expect may lower your perceived risk of not being able to pay off the loan.
Regular outgoings will be also taken into account – such as dependent children, other loans, credit cards etc. – and the proportion of your income they take up.
This will help to determine how much money you will be able to borrow based on the monthly payments you can comfortably make.
Also, the type of property is of interest, particularly those with specialist features and non-standard construction.
If the home you're interested in has the likes of a timber frame, thatched or grass roof, etc. you may need to go through a specialist lender.
How do I Get a Bad Credit Mortgage?
It is important to note that specialist lenders will put conditions in place that are different from mainstream lenders.
You are likely to need a larger deposit than those required for a conventional mortgage, with specialist lenders having stringent caps on the amount of money they are willing to lend those with bad credit.
The majority of bad credit mortgage lenders may loan 60% of the property's value, however, a few may be willing to lend as much as 90%.
Additionally, you can expect a poor credit mortgage to have interest rates that are significantly higher than those from high street banks.
However, there will also be potential marked effects on your credit rating if you keep up with the payments.
Over time your credit rating may improve, which could give you the option to remortgage with better interest rates in the future.
Preparing for your Bad Credit Mortgage Application
It is important to know what your actual credit rating is before applying for a mortgage so contact one of the main credit rating agencies Experian or Equifax for an accurate credit report.
It is imperative that the information supplied is current and correct, so double-check everything before submitting.
There are several online services that will provide you with a credit report for free online, or there are paid online subscription services so you can monitor your credit rating.
Additional documentation that you will require for your mortgage application includes the likes of:
A current driving license or passport to verify your identity.
Bank statements for your current account dating back between 3 to 6 months.
Payslips from the last 3 to 6 months or if you are self-employed, your accounts and tax return forms (SA302) for the previous 3 years.
Utility bills.
Council Tax bill.
Insurance policies.
Proof of any benefits you receive.
Your general living cost, such as travel expenses, childcare, regular outgoings etc.
Details of the property you wish to purchase, the estate agent you are buying through, and your solicitor.
Each specialist lender may have different criteria when it comes to what information you require and your income and outgoings.
So, before applying, get in touch with our expert team here at Mortgageable to see if there's anything else needed for your application.
Be sure not to make multiple online or mainstream bank applications as rejections can negatively affect your credit rating further.
Having several 'hard' searches on your credit file can adversely affect your chances of getting a mortgage when you find the right lender.
Note: Are you looking for commercial property but have a bad credit history? Bad credit commercial mortgages may be an option for you.
What About My Income?
Your income will usually determine the cap on the amount you are eligible to borrow.
Most mortgage providers will allow borrowing up to four times your annual salary, although some may offer up to 5 or 6 times your salary if the circumstances are right.
Affordability is key and lenders us affordability calculators to assess lending levels.
If your credit is bad, but you are a high earner you will still be considered a high risk for a mortgage that is a high multiple of your wage.
It may be possible through an expert mortgage broker, who can find you a flexible lender that specialises in bad credit mortgages to high earners.
Start your search for a mortgage by getting some advice from a whole-of-market mortgage broker and determine what your best options are depending on your income and how much you would like to borrow.
If you have a bad credit rating and a low income it may be a little harder to secure a mortgage as they are definitely not common, falling into the niche category of lenders.
Still, this doesn't mean you won't be able to get a mortgage – there may be a lender out there that specialises in lending to those with poor credit and a low income.
There are other options available if you fall into both categories, such as supplementing your low income with benefits, Shared Ownership schemes, and guarantor mortgages.
Get in touch with us today to talk through your options with you and advise you on the best route to go down.
Bad Credit Mortgage Lenders Main Takeaways
Yes, those with a poor credit history can still get a mortgage.
Raise as large as a deposit as you can as this will improve your chances of getting a mortgage.
Check your credit reports and improve your credit rating as much as possible before applying.
Find a lender that specialises in bad credit mortgages – that's where Mortgageable come in!
Speak to our export mortgage advisors today to discuss through your options.