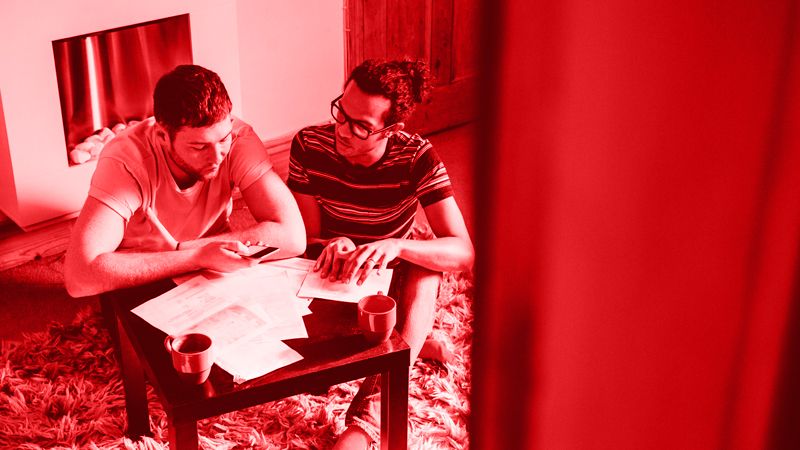 There are many different types of personal circumstances that could result in a joint mortgage holder consider walking away, including relationship breakdowns.
Unfortunately, emotions also tend to be running high during such a time, and therefore it's always good to have a no-nonsense guide to review the considerations and consequences of certain choices.
Although we also strongly advise that independent legal and financial advice is sought before making any commitments.
Joint Mortgages
Firstly, let's cover the responsibilities that each party has within a joint mortgage. In a typical joint mortgage, both parties listed on the mortgage will have equal responsibility to ensure that the monthly mortgage repayments are paid in full.
This does not change following a couple's separation and therefore a formal process would need to be undertaken to notify the lender and make a change.
While a couple is separated and in dispute, it is important that the mortgage payments are made in full otherwise the consequences of mortgage default are likely and will be felt equally between both parties.
Any mortgage defaults will impact both parties credit score and therefore will restrict the future financial options available, and therefore should be avoided.
Need more help? Check our quick help guides: 
Considerations When Reviewing the Option of Walking Away from a Joint Mortgage
The ultimate outcome of walking away from a joint mortgage will depend on the personal circumstances of all parties involved.
Typically walking away in its basic form would result in the equity owned being transferred to either; the other party or someone else.
A typical joint mortgage will be based on a 'without tenants in common' agreement meaning that one party would need to seek the consent and permission of the other in order to sell their shares.
In an agreement can be made, the transfer of equity can be made legally following which, the mortgage lender would need to be informed.
The lender would undertake mortgage affordability checks to ensure that the person retaining ownership can solely afford the mortgage repayments.
If one party can afford the mortgage on their own, this process would not require additional finance is needed.
Often additional funds can be raised on the mortgage or via an alternative lender (subject to lender criteria and affordability checks) to pay an equity share to the person being removed from the mortgage.
However, in unamicable situations where one party refuses to take on the proportion of ownership from the other party but refused to let the party sell to anyone else, there are relatively few options, although the lender may, in some circumstances accept the removal of one party from the mortgage.
Sometimes it may be appropriate to force the sale of a property under a joint mortgage by applying to the court for an order to remove one party from the title deeds of the property but not from the mortgage itself.
This would mean that the ex-partner would not have any further claim to the property but would still be responsible for the mortgage repayments.
In this situation, it is strongly recommended that independent legal and financial advice is sought before making any rash decisions.
Related guides: 
Possible Options Instead of Walking Away
It is highly recommended that before a situation breaks down, amicable discussions are encouraged to find a way forward, suitable to both parties, such as:
Continue to contribute towards the mortgage – Where possible, exploring options of an agreement between both parties to continue jointly paying the mortgage.
This may not result in both parties continuing to make equal payments, especially if one party has moved out however, if an agreement can be made it would protect both parties' interests whilst retaining the ownership of the property, even for investment purposes.
It is also worth noting that there are mediation services available in order to help guide this negotiation process.
Find a replacement for the Joint Mortgage – In some circumstances, it may be appropriate to ask a family member to replace one party on a joint mortgage if this meets lender criteria.
 Selling the Property – As discussed, both parties would need to agree on selling up before this could be undertaken, however by selling the finances are split up and the individuals are able to proceed however they wish, including the option of buying a different property alone.
Obviously, this option involves additional costs such as estate agent fees, legal costs and stamp duty on a new property, which need to be factored into the proceeds of each share.
Related guides: 
Walking Away from a Joint Mortgage Summary
We appreciate that separation is an emotive topic however during this article we have aimed to provide the facts on joint mortgages including the consequences of walking away from a joint mortgage.
We have also provided a range of alternative options, which if you are wishing to explore, please do get in touch to book a consultation.
Here at Mortgageable, we understand and appreciate that multiple factors are often at play during separation and also understand the toll that emotive situations can take, however, we also work with our clients, to ensure the protection of their interests.
As discussed throughout this article, early and amicable intervention is often favourable for both parties and therefore it is important to seek legal and financial advice as soon as possible.
That way all options are explored with time to consider the choices, including reviewing any consequences before any decisions are made.
We always treat all clients with the utmost care and confidence throughout such difficult times.
Please feel free to get in touch with our friendly team of advisors to book an initial consultation to discuss the options available to you.
Call us today on 01925 906 210 or feel free to contact us. One of our advisors will be happy to talk through all of your options with you.
Further reading: