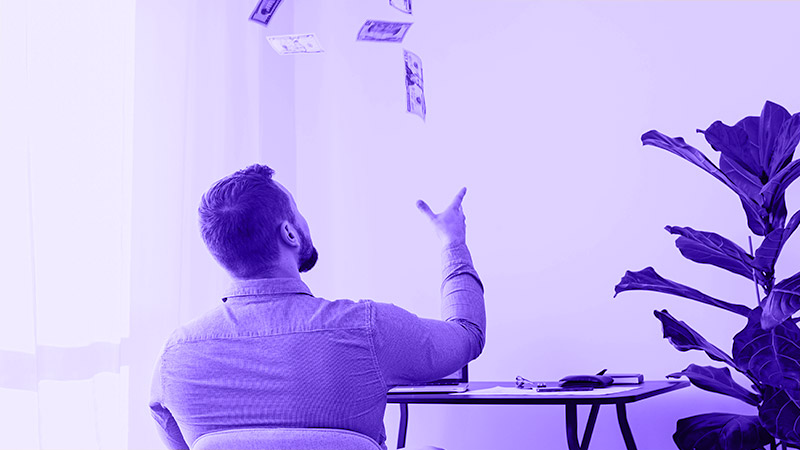 A cashback mortgage involves a deal where the lender pays cash to the borrower as an incentive to purchase a home with them.
Mortgage cashback allows the lender to stand out from the competition, and you get a cash lump sum to use however you like, from moving costs to mortgage repayments and furniture.
However, although a cashback mortgage offer may sound like a great deal, it can feature higher interest rates and additional terms, so it's essential to understand all the features involved with this type of financing.
Read on to learn everything you need to know about cashback mortgages.
How Does a Cashback Mortgage Work?
A cashback mortgage allows you to receive a certain amount after approval of your mortgage application or after making your first repayment.
The sum can be a percentage of the amount you're borrowing, an amount equal to one of your monthly payments up to a limit or a fixed amount.
Costs can spiral when buying a property, and a cashback can help you cover some of the costs.
The cashback usually ranges from £150 to £1000 and can be transferred directly into your bank account or sent to your solicitor.
The solicitor can then pass the money on to you, or you can have them keep it to cover their fee.
Can I Get a Cashback Mortgage Offer When Remortgaging?
Yes. Although some lenders restrict their mortgage cashback offers to first-time buyers, others offer cashback on remortgage deals.
Other lenders don't limit their cashback deals to a particular type of borrower or mortgage and can provide cashback incentives for all types of mortgages.
You can find cashback deals when taking out variable or fixed interest rate mortgages or buying a buy-to-let property.
Each lender will have their criteria for who qualifies for a cashback, and they can have different definitions of what makes a first-time buyer.
No matter the type of mortgage, you should carefully consider whether the cashback is worth it in the long term.
Advantages and Disadvantages of Mortgage Cashback
Advantages
Lump sum cash of up to £1000 to use as you like
A percentage of your mortgage as a cashback in some cases
Some lenders cover your legal fees or removal costs and save you money
Reduction in the overall costs associated with buying a home
Disadvantages
Interest rates can be higher, making monthly payments more expensive
Tighter restrictions on early mortgage repayments and overpayments
Mortgage fees can be less competitive on cash mortgages.
Terms to be aware of with a Cashback Mortgage
You'll usually need to agree to additional terms when you accept a cashback as part of your mortgage deal.
The terms can vary between lenders but usually involve repaying some or all of the cashback if you leave the mortgage before the agreed term ends and paying an exit fee.
Cashback mortgages usually have an introductory period ranging from two to five years and can have less flexibility for making overpayments during this time.
While most mortgages allow up to 10% overpayments yearly, it can be less with a cashback mortgage, and you must be aware of the limits imposed to avoid hefty penalties.
Although early repayment charges (ERCs) are usually standard with all types of mortgages if you overpay, they can be higher in cashback mortgages.
You may get penalised by as much as 3% to 5% of the amount you've overpaid and end up cancelling out any benefit gained from the cashback.
Criteria for a Cashback Mortgage
The lender will need you to meet the standard criteria as other mortgages, including creditworthiness, affordability, age and deposit amount.
However, cashback mortgages usually feature additional criteria, which can vary depending on the lender.
These can include:
Being a first-time buyer
Hold a current account with the mortgage provider
Borrow over a certain minimum amount
Purchasing a property with a good energy efficiency rating
Is a Cashback Mortgage Offer Worth It?
Getting a lump sum of cash when taking out a mortgage can seem irresistible since you can use the funds to take care of other costs in the home-buying process.
However, the benefits may only be short-term since you'll likely pay a higher interest rate for the entire mortgage duration, making it more expensive overall.
You must ensure you do your calculations and ensure the mortgage is suitable for your circumstances.
£1000 may sound appealing now, but is it worth paying a higher rate for 25 to 30 years?
You also need to consider other factors like overpayment and early repayment penalties.
A cashback mortgage may not be worthwhile if the cash you get is less than the interest you'll save by taking out an alternative deal.
There can be fewer downsides to accepting a cashback mortgage if you get a cashback deal with a rate matching the best deals available.
However, these are usually rare and far between.
You also need to watch out for high administration or arrangement fees when applying for cashback mortgages since the fees can cost more than you get back.
Some cashback mortgage offers also feature refunds and discounts on certain costs in the home-buying process as a further incentive. Such costs can include booking fees, stamp duty, and survey costs.
They can also offer discounts on various recommended insurance providers, legal firms or surveyors.
However, the lender may not necessarily have the best deals on the market, and you may find it cheaper to source all these services elsewhere.
To work out the actual cost of the cashback mortgage and determine if it's worth it, check how much you'll repay each month over the course of the deal and compare this with non-cashback mortgage deals.
Don't forget to compare the annual percentage rate of charge (APRC) to determine which deal offers the most savings overall while considering the incentives.
What Is a Cashback Mortgage? Final Thoughts
It's vital to work out the overall cost of a cashback mortgage by considering the interest rate and monthly payments to determine whether the cash incentive is worth it.
An expert mortgage advisor or broker specialising in cashback mortgages can help you determine whether it's the best option for you and where you can find the best deals for your circumstances.
Call us today on 01925 906 210 or contact us. One of our advisors can talk through all of your options with you.